Guangzhou Weather in February
February is one of the coldest months of the year in Guangzhou, and the average temperature is between 10℃/50℉ and 19℃/66.2℉, there are more cloudy days than rainy days and it is so pleasant that you can go outside to enjoy yourself.
| | | | | |
| --- | --- | --- | --- | --- |
| | Average Maximum | Average Minimum | Highest Maximum | Lowest Minimum |
| ℃ | 19 | 10 | 28 | 4 |
| ℉ | 66.2 | 50.0 | 82.4 | 39.2 |
Sunny Days: 16 days
Cloudy Days: 6 days
Rainy Days: 1 day
Overcast Days: 5 days
What to wear and bring
Early February
In early February, the lowest temperature can go down to 4℃/39.2℉, and the highest temperature is around 12℃/53.6℉. Because of the cold weather, it is recommended that you wear warmer clothing like fur coats, heavy coats and leather coats. Besides, do not stay outside for a long time.
Mid-February
The middle period of this month is relatively warm, the days are mostly sunny with some clouds, while the average temperature is still between 11℃/51.8℉ and 23℃/73.4℉. It is recommended that you wear a sweater with a coat, or a down jacket and other warm clothes.
Tips:
Weather on the Chinese Spring Festival
On Spring Festival, it can be quite mild and sunny, with the temperature staying between around 15℃/59℉ and 26℃/78.8℉. In China, almost everyone has to go out on this day. It is recommended to wear warm clothing like coats and sweaters.
Late February
It is similar to mid-February, the temperature is still between 13℃/55.4℉ and 19℃/66.2℉, but there are a few rainy days. Down jackets and heavy sweaters are also necessary. In addition, do not forget to carry an umbrella.
Historical Guangzhou Weather in February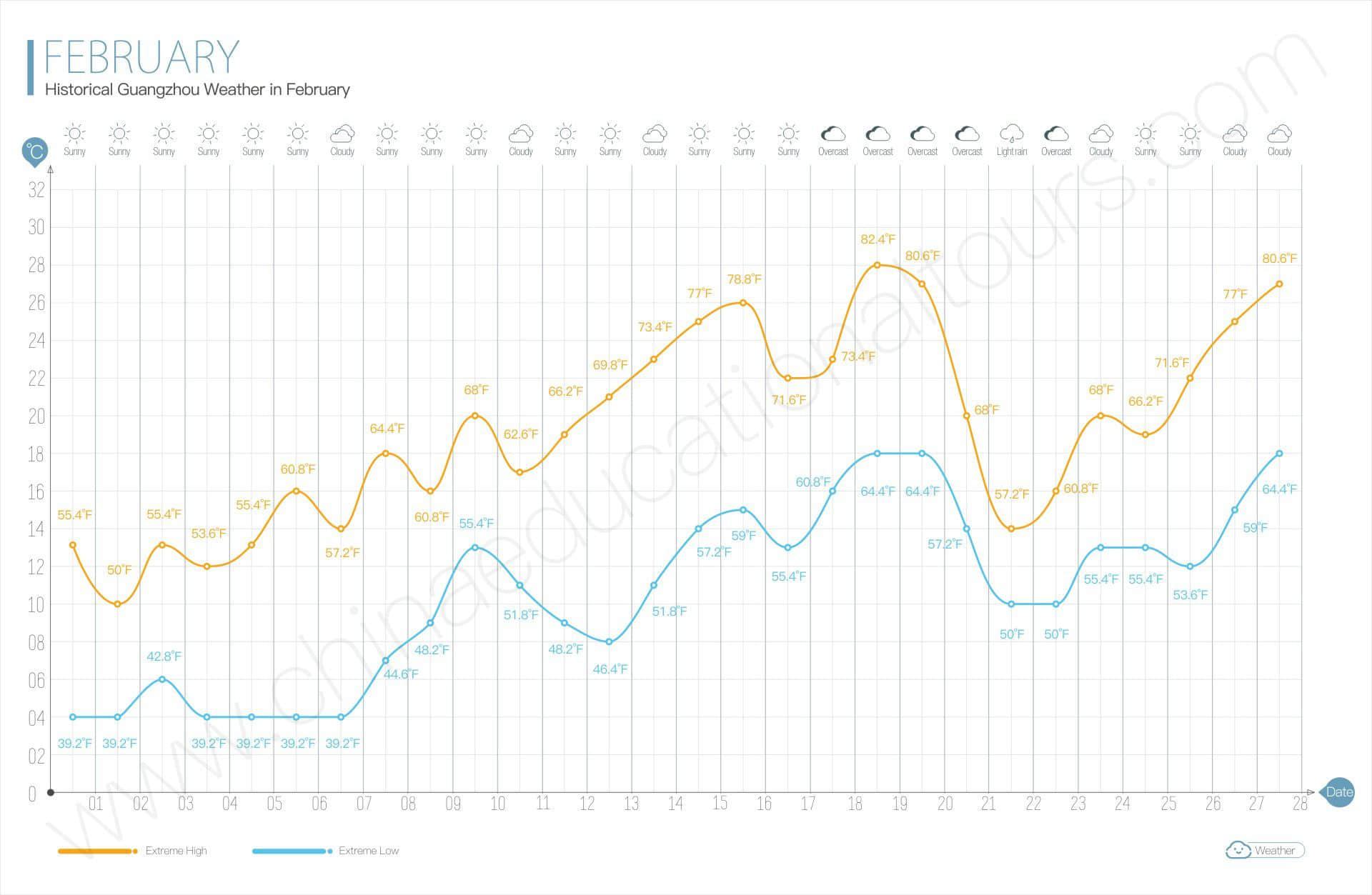 click here to enlarge
Have a question?
OR
Are you eager to begin your Chinese cultural journey?
Drop us a line and we will promptly connect you with our leading China expert!