Guangzhou Weather in May
It becomes hotter and hotter in May in Guangzhou, with the average temperature around 31°/87.8℉ and the highest temperature up to 36°/96.8℉. There are more cloudy and rainy days than sunny days.
| | | | | |
| --- | --- | --- | --- | --- |
| | Average Maximum | Average Minimum | Highest Maximum | Lowest Minimum |
| ℃ | 31 | 24 | 36 | 22 |
| ℉ | 87.8 | 75.2 | 96.8 | 71.6 |
Sunny Days: 2 days
Cloudy Days: 14 days
Overcast Days: 2 days
Rainy Days: 13 days
What to wear and bring
Early May
In early May, there is a lot of rainfall and it rains almost every day. Because of the rainy days, the temperature is between 22℃/71.6℉and 29℃/84.2℉. It is worth noting that there may be thunderstorms in the last few days. It is recommended to wear clothing like skirts, shorts and cool coats. Bringing your rain gear is necessary.
Tips:
Weather on the Chinese Labor Day (May 1st)
On Labor Day (May 1st), it rains lightly from time to time, with the minimum temperature staying around 24℃/75.2℉. It is recommended to wear shirts, dresses and lightweight pants. It is a nice time to travel in Guangzhou.
Mid-May
Compared to early May, it is hotter in this period, when the maximum temperature is up to 36℃/96.8℉. There are mostly cloudy days, and it is recommended that you wear a T-shirt and shorts or skirt. The UV index is very high, so sunscreen is extremely important.
Tips:
Weather on the Chinese Dragon Boat Festival
On Dragon Boat Festival, it is usually a very hot sunny day, when the highest temperature can reach 34℃/93.2℉. In China, the Dragon Boat Festival is to commemorate the poet Chu Yuan. People eat dumplings and have dragon-boat races on the day. It is suggested to wear the coolest clothing and do not stay outdoors for a long time.
Late May
The weather situation is similar to the last period, with the highest temperature staying around 35℃/95℉. As it usually rains lightly for a couple of days towards the end of the month, wearing cool clothing like short sleeved shirts with long pants is adequate.
Historical Guangzhou Weather in May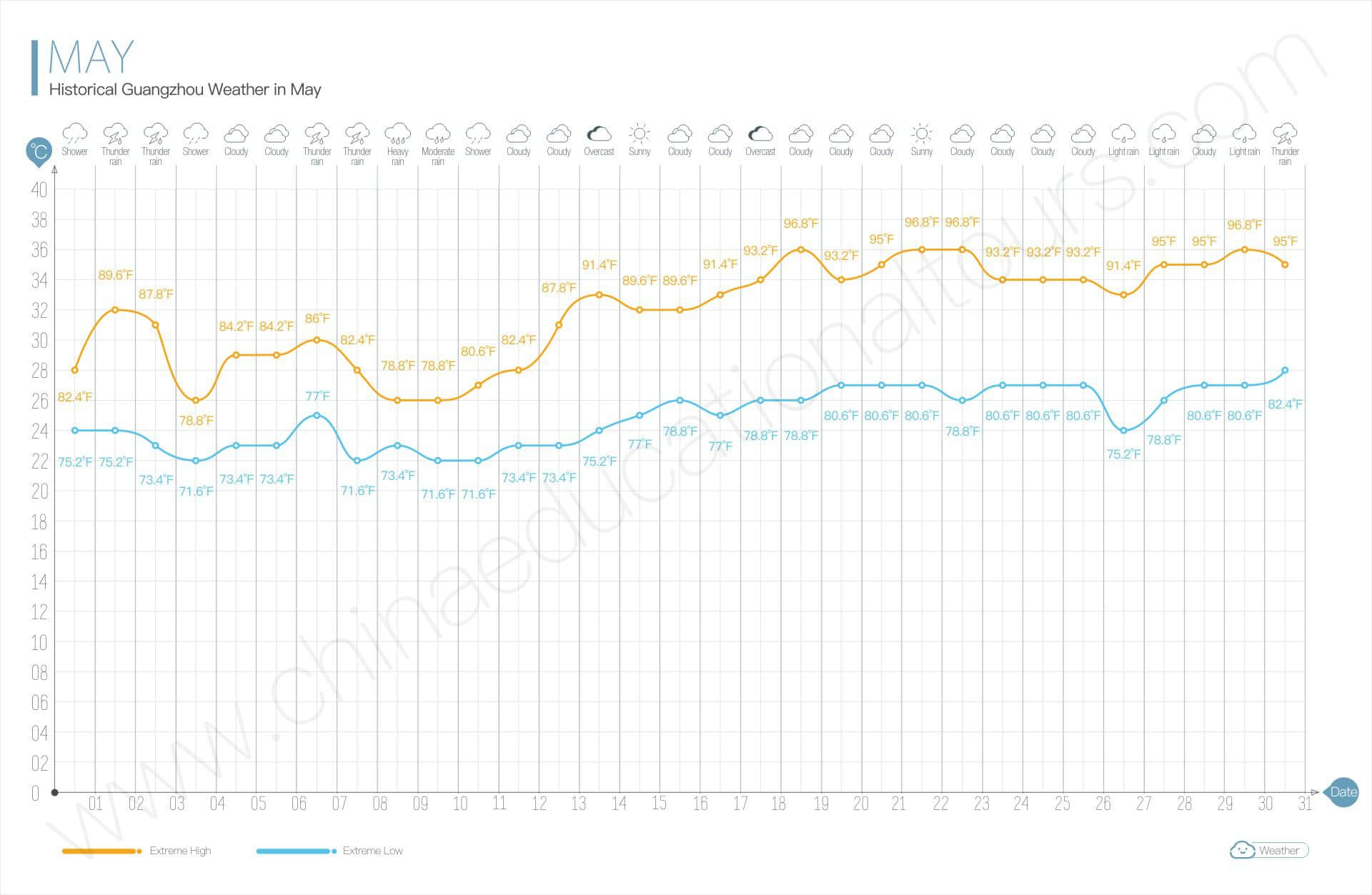 click here to enlarge
Have a question?
OR
Are you eager to begin your Chinese cultural journey?
Drop us a line and we will promptly connect you with our leading China expert!