The weather in Hangzhou in January is cold and wet. In fact, January is the coldest month of the year, but with not much snow. The average maximum temperature drops to 7℃/44.6℉, and the minimum temperature can go down to -5℃/23℉. It rains for around 9 days in the month.
| | | | | |
| --- | --- | --- | --- | --- |
| | Average Maximum | Average Minimum | Highest Maximum | Lowest Minimum |
| ℃ | 7 | 1 | 16 | -5 |
| ℉ | 44.6 | 33.8 | 60.8 | 23 |
Sunny Days: 6 days
Cloudy Days: about 7 days
Rainy Days: about 9 days
Overcast Days: about 5 days
Snowy Days: about 4 days
What to wear and bring?
In early January In early January, there are a lot of rainy days, and it may even rain continuously for a couple of days. It is recommended that you wear warm clothing such as a warm jackets lined with down, a padded winter coat, or other clothing that can keep you warm. Because of the heavy rain, you should carry rain gear and stay indoors as much as possible.
On New Year's day it can be warmer and the weather is likely to be nice, without rain or snow. The temperature is between 10℃/50℉ and 3℃/37.4℉, you can wear a thick sweater, along with a warm jacket such as a jacket lined with down.
In mid-January During the middle of the month, the temperature begins to rise, to between 16℃/60.8℉ and -2℃/28.4℉. The weather in this period is dry, without rain or snow. You are advised to wear warm clothes such as a heavy sweater or a down-filled jacket.
In late January It rains heavily in late January, sometimes also with heavy snow, and the lowest temperature can go down to -5℃/23℉. Therefore, you should dress even warmer in this period, with something like a leather jacket or a fur coat.
Historical Weather in January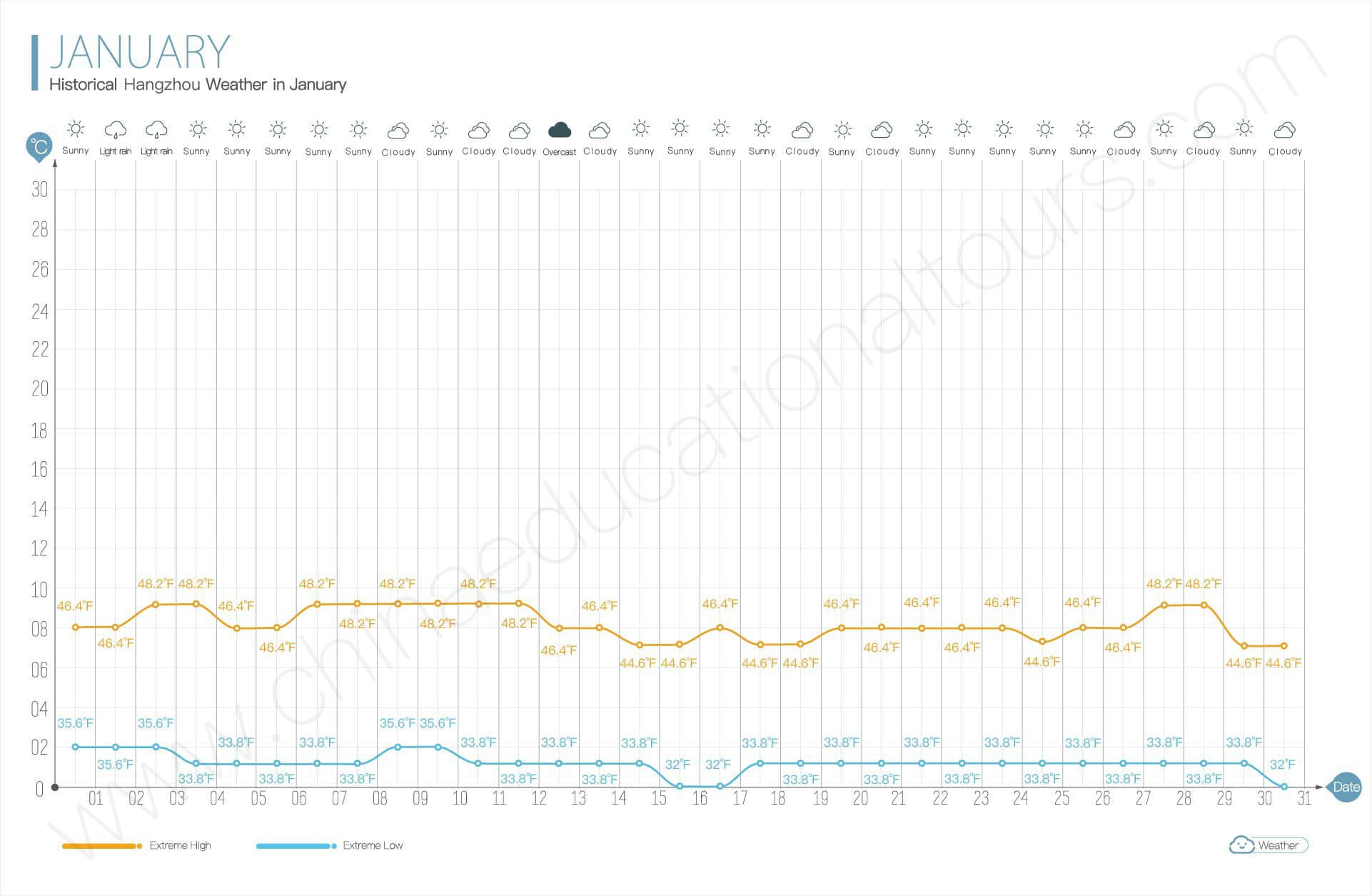 click here to enlarge