The Xiling Seal Art Society was initiated by seal artists Ding Fuzhi, Wang Fu'an, Wu Yin and Ye Weiming from the Zhe (in the region of Zhejiang Province) School. The first President of the society was Wu Changshuo, a famous scholar, calligraphist, painter, seal maker and writer from the Hai (Shanghai) School. In the society, Bronze ware and stone tablets are carefully preserved, seals get fully studied and calligraphy and paintings are also an integral part of the business. The civil society is noted for its supreme achievement and influence from study of bronze ware, stone tablet and seal engraving around the world.
Quick Facts
Chinese Name: 西泠印社 Xīlíng yìnshè
Building time: 1904
Duration: 1 hour
Entrance fee: free
Opening hours: 8:30 AM-17:00
Address: No. 31, Gushan Hill, an island in the north of West Lake, Hangzhou, Zhejiang Province, China
Best time to visit: all year around.
How to get there: Take the metro Line 1 and get off at West Lake Cultural Square Station, Exit C. Walk for another 550 meters and you will see the Society.
Highlights and Attractions: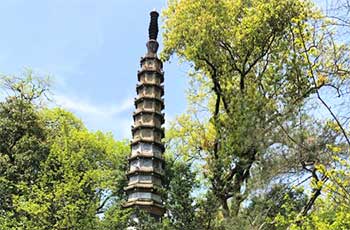 Avatamsaka Sutra Pagoda
The headquarters of the society are located on the western side of Gushan Hill in Hangzhou, Zhejiang Province. Gushan Hill is an island in the north of West Lake. The architecture here is divided into three parts. The featured complex is well integrated into the local environment. The human and natural landscape set each other off beautifully. The conception of the layout is extremely delicate. The main examples of architecture include Bai Tang (Cypress Hall), Zhu Ge (Bamboo Pavilion), Yangxian Ting (Pavilion for commemorating persons of virtue) and Huanpu Jinglu (Cottage where people feel connected with nature again). Plaques and couplets are on the walls of each building. Stone engravings and stone tablets are found around the buildings, where there are numerous calligraphy works of the literati.
China Typography Art Museum is set up within the Xiling Seal Art Society, in which the number of calligraphy, painting and seal works from all dynasties in China amounts to more than six thousand. On the site of the Society, there are examples of ancient architecture from the Ming and Qing Dynasties, as well as delicate gardens, secluded scenes and a cultural landscape. Cliff inscriptions can be seen everywhere. It enjoys the title of "Top Lake and Mountain Scene". There is also an Avatamsaka Sutra Pagoda in the Society. This exquisite stone was constructed in 1924 by a monk and member of the Society. The octangular pagoda has eleven layers. Avatamsaka Sutra is inscribed on the first floor. Diamond Sutra is inscribed on the second and third, the rest of the eight layers and the top of the Pagoda. Figures are engraved vividly into the bases of the Pagoda.