HZ-06:

4 Days Private Tour: historic heritage and the present life style

The convenient transportation network of Hangzhou has made it an important commercial distribution center since ancient times. It still bears all the badges of its glorious and flourishing past. You will see museums, pagodas, and ancient water towns in Jiangnan style. Even though the city is developing fast, you can still experience the slow life by touring West Lake and Meijiawu Tea Plantation. As one of the first cities in China to try to raise awareness of the environment, Hangzhou built Tianziling Ecological Park to engage in the comprehensive treatment of municipal solid waste.
Trip Highlights
Walk along the well-preserved part of the ancient city
Visit one of the masterpieces of ancient Chinese architecture
Experience cashless payment in a supermarket
Take a boat ride in Nanxun Watertown
Admire the harmony between Chinese antiquity and western architecture
Suitable For: School Students, Travelers Who Prefer Beyond Classic
Full itinerary for Hangzhou Educational Tour
Day 1
Hangzhou Arrival (dinner)
You will meet your tour guide on arrival in Hangzhou. After dinner, you can spend some time in the historic Qinghefang Street. There are a variety of local shops, some of which have existed for centuries, such as Zhang Xiao Quan Scissors, Wang Xing Ji Fan Store, and Huqingyu Tang Chinese Medicine Pharmacy. Huqingyu Tang is the only Chinese medicine museum, where you can learn about Chinese medical history in Hangzhou and experience the traditional pharmaceutical process.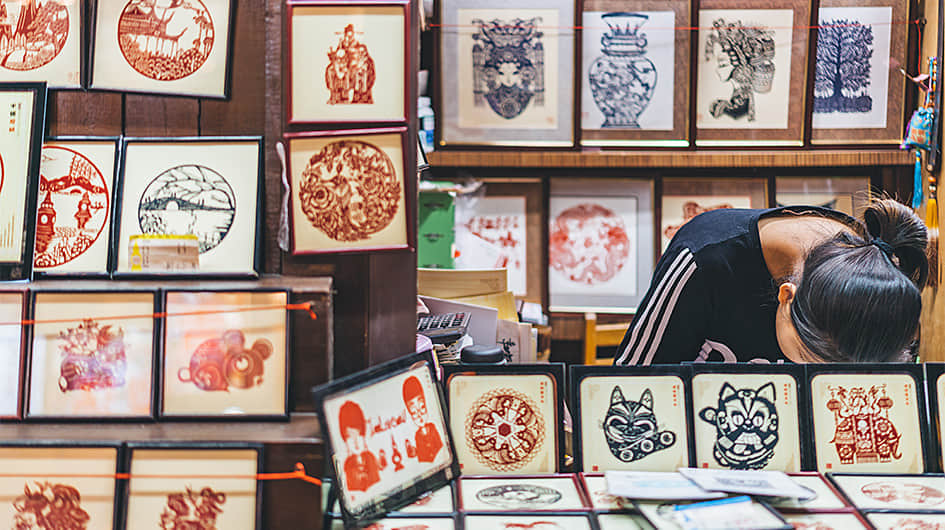 A Paper Cut Shop in Qinghefang Street
Day 2
Hangzhou: Culture and Natural Scenery (breakfast, lunch & dinner)
Morning
Approximately 10 kilometers (6 miles) from Hangzhou city, Meijiawu Tea Plantation is a famous production base of Longjing Tea. There you can learn about the history of tea, the process of making tea, and the functions of different kinds of tea. It is easy to spend a peaceful morning in the rural area. We will take you back to Hangzhou near lunch time. Having a bird's-eye view over West Lake at Chenghuang Pavilion, you will enjoy the southern Song dynasty snacks banquet with a traditional Chinese tea ceremony.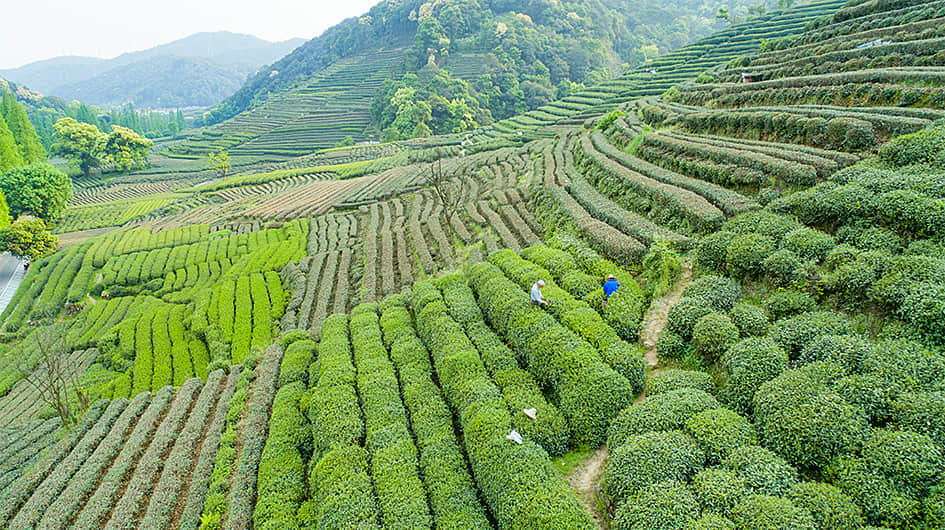 Picking the Tea Leaves
Afternoon
West Lake is defined as the very classical beauty in China, utterly mesmerizing. It is perfectly harmonious with gardens, pagodas and bridges surrounding, while boats drift slowly near the willow-lined lake bank. You will board a big Picture Boat to cruise on the lake with a stopover on The Island, where you can look over at Three Pools Mirroring the Moon. This scene is the background of the Chinese one-yuan banknote.
Pagoda of Six Harmonies was built to suppress the tidewaters of Qiantang River during ancient times. It is one of the best brick-wooden buildings in China. Make some effort to climb to the top, you will see an amazing view of the mighty river, the bridge astride the river, and the city.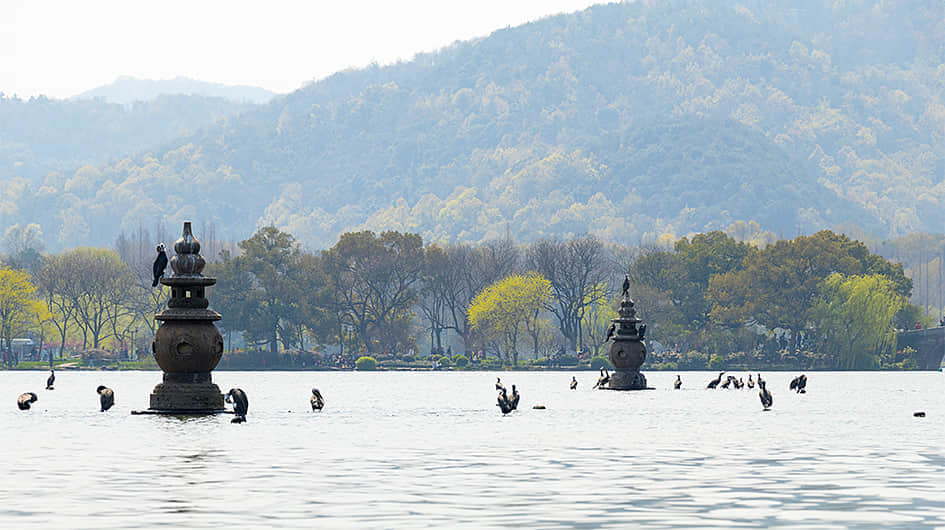 Three Pools Mirroring the Moon
Day 3
Hangzhou: Urban Sustainable Development (breakfast, lunch & dinner)
Morning
The construction of Hangzhou Tianziling Ecological Park began in 2008 on a closed-down sealed landfill. It is now a professional company with comprehensive control of municipal solid waste. This park is designed with some of the tour routes to teach about garbage treatment, such as sewage treatment, turning waste into wealth, generating electricity by marsh gas, and garbage classification. This could help us with developing good habits and building a better environment to live in.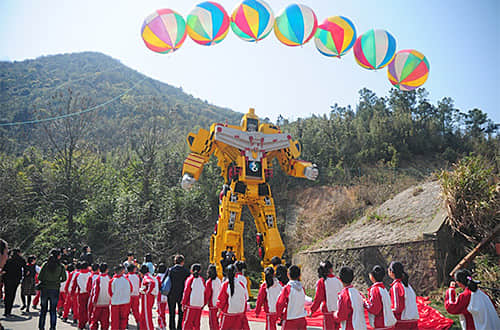 A Robot Built with the Industrial Wastes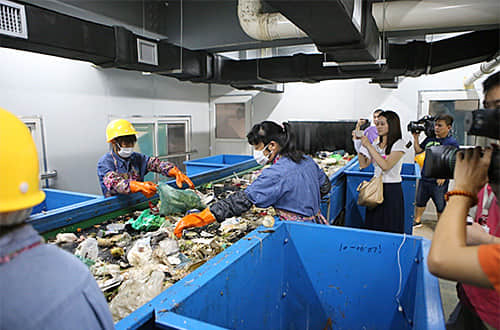 Pick out the Garbage That Does not Belong to the Food Waste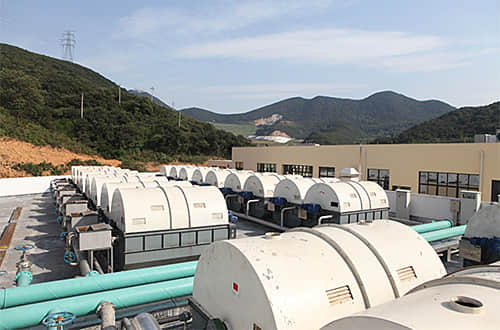 Sewage Treatment
Afternoon
After lunch, you will get to The Grand Jinghang Canal Museum. This artificial waterway, the longest in the world, is one of the greatest ancient constructions in the world. The museum tells you the history and development of the Grand Jinghang Canal. You will find technical drawings, paintings of daily life in ancient times, historical artifacts, and models of buildings, ships and machinery.
Your guide will take you to Hema Fresh Market to find your dinner. There are many fresh foods to choose from, such as vegetables, various meats, fruits, sushi and seafood. In the cooking section inside the market they can cook your food for you so you can just eat there. The special part is that you can complete the payment on your mobile phone instead of cash. This is a very popular payment way in Chinese daily life now.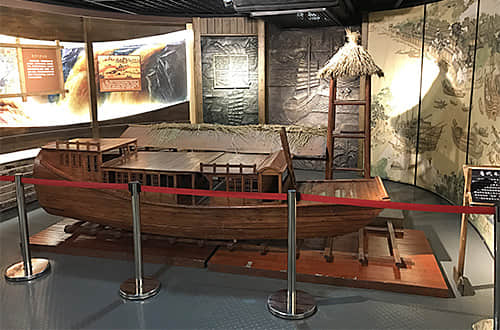 A Model of a Ship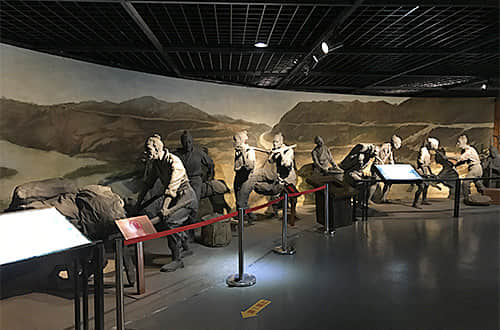 People Working at the Bank of The Grand Jinghang Canal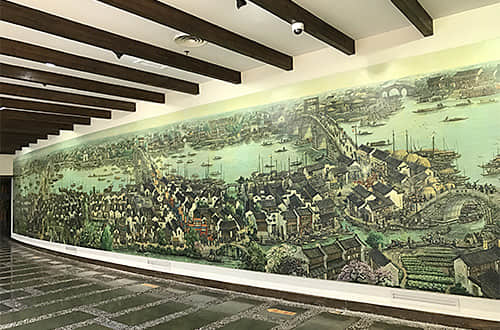 The Painting of The Grand Jinghang Canal on the First Floor
Day 4
Hangzhou – Nanxun Old Town: Water Town Visit (breakfast & lunch)
Morning
Heading to the north of Hangzhou, you will arrive in Nanxun Old Town. It is not as crowded as other water towns but is renowned for its elegant and exquisite gardens. The well preserved historical buildings combine elements of both western and Chinese cultures. Among all the architecture, you would not want to miss Bai Jian Lou, which in Chinese is literally 100 old houses situated alongside the canal at the old town. How amazing is that! Take a boat trip and you will feel that you are living in the old times of China.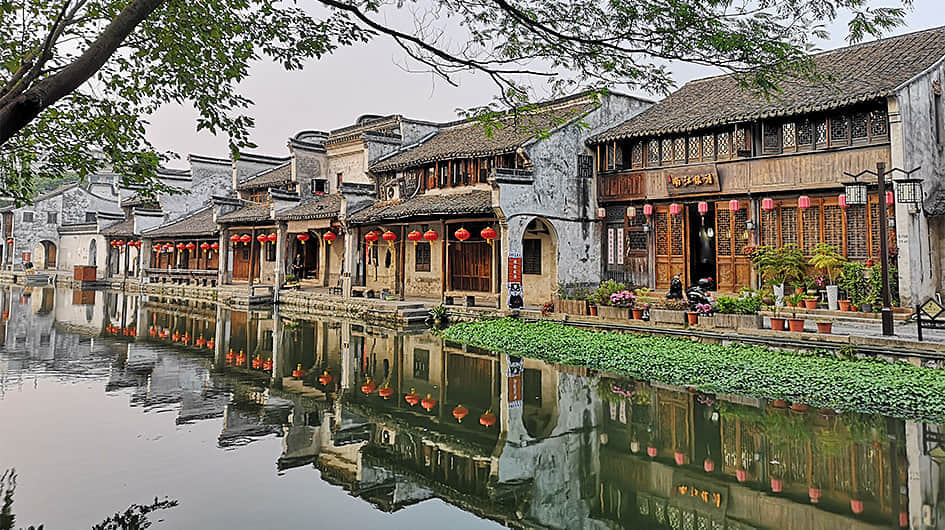 The Old Houses Built alongside of the River
Afternoon
Your guide will escort you to the airport / train station. Pack up your valuable memory of this tour and go to your next destination.
Comfortable Hotel
| | |
| --- | --- |
| Hangzhou | Culture Plaza Hotel Zhejiang |
Note: please feel free to contact our travel specialist if you prefer to stay at other categories of hotels.
What's Included
Professional English speaking tour guide
Entrance fee to all spots listed in the itinerary
Well-selected hotel accommodation
Meals mentioned in the itinerary
Excellent driver and comfortable vehicle with air-conditioner