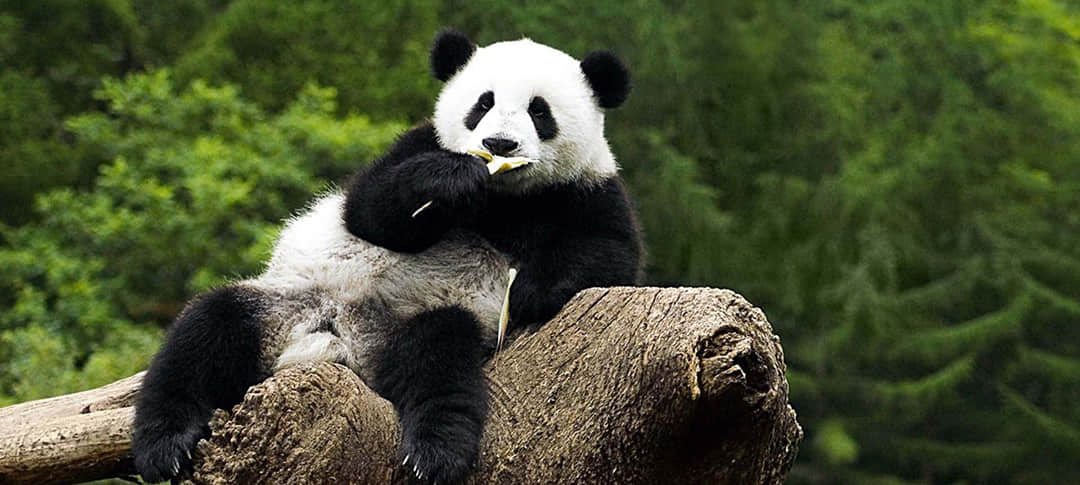 Best Places to See Pandas in China
Sichuan Province, mid-west of China, is where the most wild Pandas can be seen. You can also admire pandas in Beijing Zoo, Shanghai Wild Animal Park, Chimelong Safari Park, Shenzhen Safari Park, Macau Giant Panda Pavilion and Hong Kong Ocean Park.
The specialty about Hong Kong Ocean Park is that you can volunteer to be a panda keeper here. To clean their enclosures and make food for them is an experience of a lifetime. It takes about 2 hours and costs about 170USD.
Dujiangyan Panda Base -- Recommendation Rate: ★★★★★
Established: in 2011
Feeding Numbers: 30 to 40
Opening Hours: 08:30-16:00
Entrance Fee: CNY 58
How to get there: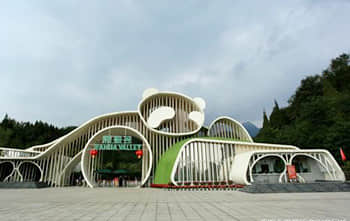 Take bullet train from Chengdu to Dujiangyan, which costs about CNY 20. Take bus line Dujiangyan 102 from the Passenger Transport Center Station to the Western District of Technology and Business University Station, and walk then straight ahead about 2.4 km.
Take bus line Dujiangyan 14 from Shaxi 2.5 Ring Road Junction Station to Zhongxinyunqigu Station, and then walk straight ahead about 2 km.
The base is located in Baima Village Yutang Town of Dujiangyan City, which covers an area of 12,542 m². It is about 50 kms northwest of Chengdu. In the future, the base will construct an Academic Exchange Center, Breeding House, Teenagers' Ecotourism Experience Village, Multifunction Cinema, Scientific Research Center, and Observation Station.
The pandas here are very active. They are eating and roaming around, or climbing the trees. You can hold a panda and take a picture with them with paying a donation. The Volunteer Panda Keeper Program here is highly recommended. You will have a fabulous day being a volunteer as you clean the pandas' cage, prepare their food, and feed them. These daily work will create an unforgettable experience for you.
Chengdu Giant Panda Breeding and Research Base -- Recommendation Rate: ★★★★
Established: March, 1987
Feeding Numbers: about 100
Opening Hours: 07:30-18:00, all year around
Entrance fee: CNY 58
How to get there: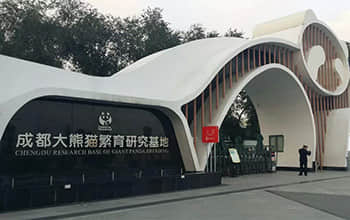 By bus: Take a bus from downtown, and transfer to bus line 87,198a, 198 or 867 to the Panda Base Bus Stop. This trip will take you about 1hour and 30minutes.
Take a taxi: Taxi fee is about CYN 50.
Chengdu Giant Panda Breeding and Research Base has built an Ecological Park to simulate the habitat of the Giant Panda, which covers an area of 31,000 km² (7.6 million acres). Here you will watch their natural life through a fence or glasses and, if you are lucky, you will see them play outside. They will fascinate you with their playful pranks such as climbing tree trunks upside down. The optimum time to visit is before 09:30, as their feeding time is between 09:00 and 11:00. Also you can have fun watching the antics of the adorable baby pandas. There is a Giant Panda Museum near the Base; you may like to send some postcards with a panda postmark from the Panda Post in the museum. Following this, go to the Giant Panda Cinema to watch some documentaries; the fee is CNY 50. As well as the Giant Pandas, there are Black-necked Cranes, peacocks, cormorants and other species in the zoo.
Bifengxia Panda Reserve -- Recommendation Rate: ★★★★★
Established: December, 2003
Feeding Numbers: about 80
Opening Hours: 9:00-11:30, 13:30-16:00
Entrance fee: CNY160
How to get there: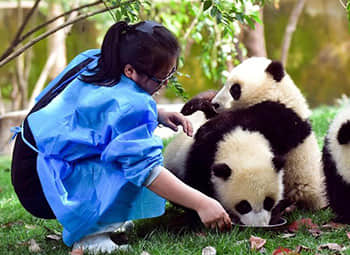 Take a public bus from Chengdu to Bifengxia at Xinnanmen Long-distance Bus Station, which cost about CNY39.
Take a bus from Chengdu to Ya'an at Shiyang Long-distance Bus Station, and transfer to the bus from Ya'an to Bifengxia or take a taxi to get there. It will take you about 2 hours and 40minutes.
Bifengxia is located about 16km north of Ya'an city, with a scenic area which covers 20 km² and forest which covers about 1.33 km².
The gorge is a deep, narrow valley with very steep sides about 100 to 200 meters high. Vigorous plants, valley landscape and an impressive waterfall are characteristic of Bixiafeng. The China Conservation and Research Center for the Giant Panda has been established in the scenic area with an area of 0.6 km² providing natural harmony and an ecologically balanced environment. Here you will go behind-the-scenes to see the lives of the pandas and become a volunteer to take care of them. Work with the keepers, clean the outdoor and indoor enclosures. You will also prepare food, feed the pandas, and weigh them. Feeding is done 3 times a day, with panda bread, carrots and apples. Pandas all have their own personalities and you will have an interesting experience observing their particular behaviors.
Sichuan Wolong National Nature Reserve -- Recommendation Rate: ★★★★★
Established: 1963
Feeding Number: about 100
Opening Hours: 9:00-11:30 and 13:30-16:00
Entrance Fee: CNY30 for the Reserve
How to get there: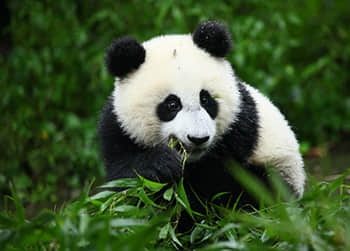 Take a public bus from Chengdu to Xiaojin or from Chengdu to Wolong at Chadianzi Station. It costs about CNY40.
Take a bus from Chadianzi to Dujiangyan City. The drive takes about 40 minutes, and costs about CNY 15. Transfer to a public bus from Dujiangyan to Wolong Bus Station. It takes about 2 hours, and ticket price is about CNY 25.
The Nature Reserve covers an area of 200,000 hectares, and is one of the earliest national reserves. It is famous for being the "hometown of panda", "storage of precious biological genes", and "natural park of plants and animals". There are 66 pandas in different age groups in the Panda Garden. You will observe the life of captive-bred and semi-wild pandas, you will hear the courtship song performed by pandas in the mating season, and, if you are lucky, you will see the birth of a cub in autumn.
The Giant Panda Museum is the only one which shows the history and facts of life about pandas. The museum comprehensively describes the pandas' living environment, historical evolvement, and characteristics, as well as that of other coexistent mammals. The museum also exhibits the development of artificial feeding, breeding, research into protection and natural reserve, support of international organizations and people who love pandas, and achievements in international cooperation and research.
Our Most Popular Panda Tours:
Our most popular panda tours take you to see these lovely giant pandas from unique angles.
Have a question?
OR
Are you eager to begin your Chinese cultural journey?
Drop us a line and we will promptly connect you with our leading China expert!