Top 7 Places to Visit in December in China

Is China worth visiting in December?
December is the start of winter in China. With China's vast landscape, the weather varies from north to south, east to west. From the sub-tropical to tropical regions in the south, to the snow-covered landscape to the north, each region offers travelers a unique experience. If you are wanting to escape from the cold winter chill, there are beaches down south, or you can venture north to enjoy the ice sculptures. Visiting China during winter is not as daunting as it may sound – there is so much to explore and do especially with the contrast across the country. We can help you make your journey an enjoyable and memorable one. Find out below where you can visit and what you can do.
Visiting China in December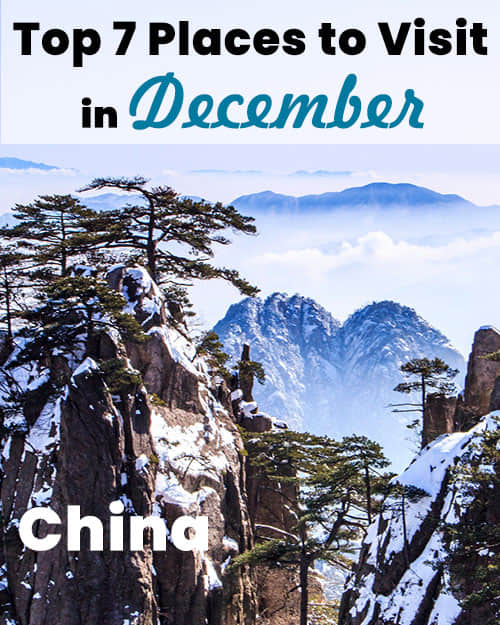 Weather in December
Across China, the weather in December varies from freezing winter in the north to warm and sunny down south. There are snowfalls in North and Central China, while the West temperatures plummet to below freezing with heavy snow. To the East, the weather can be windy, humid, and cold. The South is often pleasant with cool mild weather.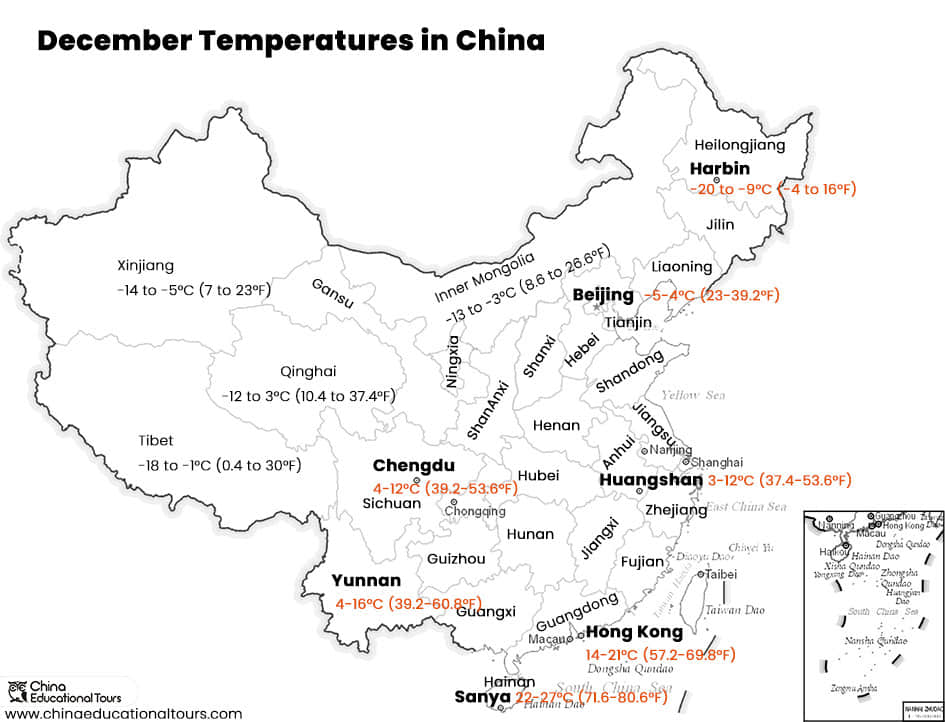 What to wear and bring
North, Northeast, Western, and Central China: A heavy down coat/jacket, winter sweater and pants, thermal wear, scarf, gloves, thick wool socks, and hat to stay warm. Wear water-resistant shoes with good traction. Sunglasses may be needed especially in the west.
East and Southeast China: Down coat/jacket, sweater, rainwear, and water-resistant shoes.
Southwest China: Dress in layers with a coat, scarf, gloves, woolen socks, and hat at night. A good down coat/jacket would be needed in the mountains.
South China: A light coat/jacket is needed.
Why Visit in December?
This is China's low season. Therefore there are many benefits for traveling during this time. There are fewer crowds, hotels and flights are cheaper.
Where to go and What to do?
North China, is a snowy-white paradise with many activities from seeing ice sculptures in Harbin, walk along the snow-covered ancient Wall, to trekking the snow-capped mountains in Huangshan. We have selected for you, what we think is the best of the best to ignite your passion to come and explore.
Harbin
Location: Heilongjiang Province in the Northeast China
Average Temperature: -20 to -9°C (-4 to 16°F)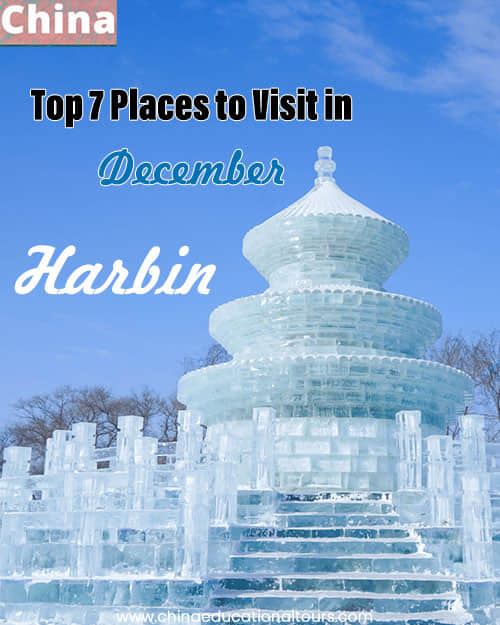 Harbin also known as 'Ice City' is a winter wonderland with its famous ice sculptures. The city has a strong influence on Russian architecture due to its proximity to its border. Enjoy a walk around the city and admire the cultural relics and historical sites, like the Saint Sophia Cathedral, the Synagogue, and a visit to the Chinese/Russian Market. The popular Ice and Snow Festival is held in January, however, many activities begin in late December.
If you are a ski buff, then there are some popular ski resorts to enjoy – Jihua Ski Resort is about 40 km from Harbin, or Erlongshan Ski Resort, about 65 km east of Harbin. Yabuli Ski Resort is the largest in the area and approximately 250 km from the city. There you can try skiing, snow tubing, snowmobiling, and much more to sit back and relax.
When visiting any of China's cities, one cannot leave without trying the local cuisine, which has an influence of Russian, Mongolian, and of course Northern Chinese. Some of the city's signature dishes are the crispy Guo Bao Rou (Sweet and Sour Pork), Hong Chang (Smoked Sausages), Stewed Chicken and Mushroom, Di San Xian made with potatoes, green peppers, and fried eggplants, and their bread named Da Lie Ba.
Beijing
Location: North China
Average Temperature: -5-4°C (23-39.2°F)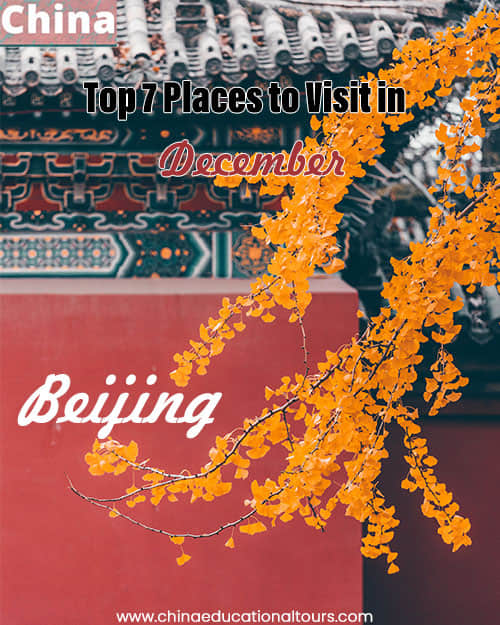 A visit to the capital in winter brings a deep sense of tranquility when you take a stroll through the Forbidden City, located in the heart of Beijing, as well as a visit to the Summer Palace, the largest imperial garden in China, which seems frozen in time. From the city, head out to the Great Wall to capture the charm and splendor of the majestic scenery that December brings as you walk along the Wall.
Wander through Hutong alleyways and enjoy a warm hearty breakfast like a true Beijinger. Try the 'baozi' – a steamed bun filled with meat or vegetable; 'jianbing' – pancake filled with chopped scallion, sweet soybean paste, and a crispy wonton wrapper; and one favorite is the 'douzhi' – soybean drink served with a deep-fried dough stick (youtiao).
Huangshan
Location: Anhui Province in the southeastern part of China
Average Temperature: 3-12°C (37.4-53.6°F)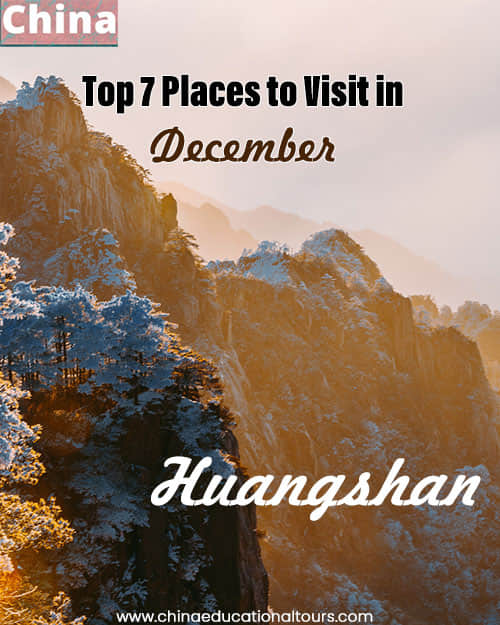 Huanghsan is also known as Yellow Mountains, brings a breath of freshness when you visit the snowy mountains and enjoy the 'Four Wonders'. As you hike in the mountains, 'Strange Pines' are seen in every corner, 'Absurd Stones' of spectacular rocky peaks appear along the path, each with its legend. When you hike further up, you will find yourself immersed in a 'Sea of Clouds'. Each step you take, each path you venture, each corner you turn and climb will give you breathtaking views that will make your winter trip a memorable one. After your long hike, refresh and revitalize yourself at the 'Hot Spring'.
Come down from the mountain top, and not to be missed in the area, we also recommend a one-day visit to Xidi or Hongcun Ancient Village, where you can stroll through the well-preserved ancient Hui-style culture and architecture, and taste some of the local snacks, such as baked rolls with steam pork and preserved vegetables, roast chicken drumsticks and hairy tofu.
Chengdu
Location: Sichuan Province in Southwest China
Average Temperature: 4-12°C (39.2-53.6°F)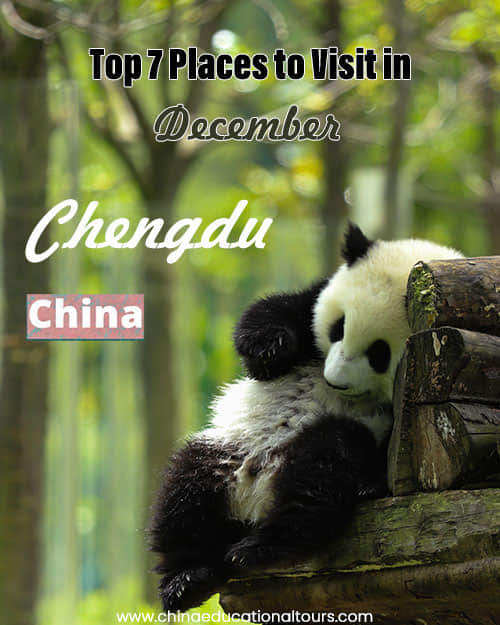 Home to the pandas, Chengdu, the capital of Sichuan Province has a lot to offer during December. First and foremost, is a trip to the Chengdu Research Base of Giant Panda Breeding to visit the cuddly pandas enjoying the snow in their realm or as a volunteer in Dujiangyan Panda Base to encounter these cute black and white creatures. There are also the red pandas, slightly bigger than a cat that may also capture your attention. Enjoy a December day with these adorable cuties.
Out of the city, are two popular destinations. First is the Leshan Giant Buddha, sitting at 71 meters in height, which is the largest sculptured stone Buddha in the world. Then next is Mount Emei, which makes a great day trip and provides a special allure as the peaks are typically covered in snow during this time. In the snow-capped Golden Summit, you can enjoy the panoramic views of firs, pines, cedars, among a sea of clouds.
Traveling further is a must to see Jiuzhai Valley, a national park located in the Min Shan mountain range, and best known for its emerald blue and green lakes, waterfalls, and narrow conic karst landforms. Not only is the scenery spectacular, but also home to nine Tibetan villages, over 220 bird species as well as endangered plant and animal species, such as the Sichuan golden monkey.
To help with the cold winter days, Sichuan is known for its spicy 'hotpot'. It is a broth cooked with many kinds of Chinese herbs and spices such as Sichuan peppers, chilies, and red oil. You can select a variety of vegetables, meat, tofu to cook in the hot broth. A hotpot experience is ultimately what you make of it.
Places to escape from the cold winter weather
In contrast with the north, some destinations in southern China experience more mild temperatures, pleasant sunshine, beaches, fragrant flowers, and the sound of chirping birds. Beat the winter blues and head south to explore more tropical and pleasantly warm days.
Yunnan Province
Location:Southwest of China
Average Temperature: 4-16°C (39.2-60.8°F)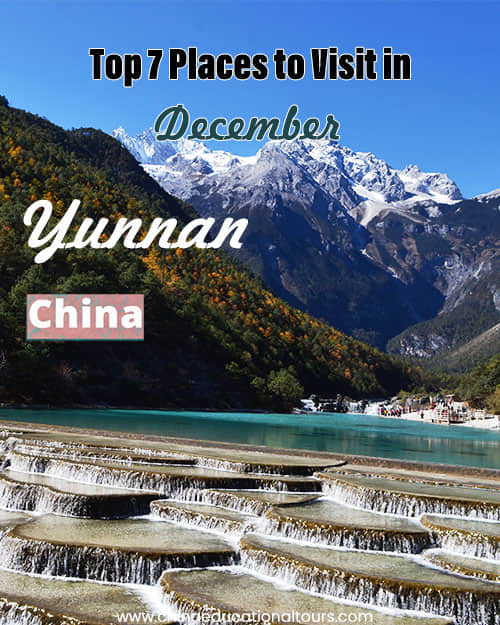 Yunnan's high mountains border Tibet in the north/west, a 1000 meter altitude plateau to the east, and a tropical zone in the south. Due to its elevation, the east of Yunnan enjoys a mild climate all year round. With such a varied landscape, Yunnan's weather can differ dramatically across the province. With this in mind, embarking on a visit to Yunnan you will encounter their unique ethnic cultures, the magnificent landscape of alpine scenery, rice terraces, tea plantations, and ancient towns.
Kunming, the province's capital is known as "Spring City", due to its mild weather all year round. Head to Western Hills Park and enjoy the panoramic views of the city. Visitors can also enjoy seeing flocks of the black-headed gulls on Dianchi Lake that can only be seen during this time. The Stone Forest is known as the 'Stone Forest Museum', due to the numerous stone formations displayed like large-scale geological exhibits. It is also home to the Sani and Yi people.
Travel to central Yunnan, and enjoy the tranquility and peaceful life of the Bai people. They keep many of their traditions, and during this time, the families cure ham and pickled vegetables, processed the same way as their ancestors. A favorite destination is Lijiang Town, also known as Dayan Old Town, a famous ancient town belonging to the Naxi ethnic people. You will be captivated by the wooden buildings and blue tiles, the ancient streets and stone alleys, small bridges, and flowing water; standing on East Street you can look out at the Jade Dragon Snow Mountain, a sacred mountain to the Naxi people.
The Jade Dragon Snow Mountain is popular for hikers, but you can also take a cable car up. The mountain during this time is covered with snow and fog, resembling a silver-white dragon from a distance.
Sanya
Location: the southernmost city on Hainan Island, Southeast of China
Average Temperature: 22-27°C (71.6-80.6°F)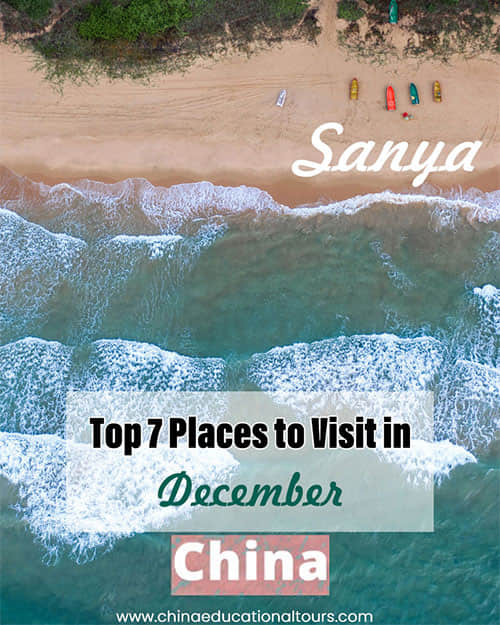 Sanya reputed as "the Hawaii of China" is renowned for its golden shores, glorious sunshine, and glamorous long coastline. A great get-away from the wintery days and fun for families.
It is a pity to come to Sanya without enjoying some sea sports. Wuzhizhou Island and the pristine Jiajing Island offer diving, surfing, motorboat, sea fishing, and para-sailing.
Being by the sea, Sanya has a range of delicacies for any seafood lover, like the Hele Crab. You will find many eateries from cafes to high-end restaurants offering a variety of mouth-watering food for you to treat your taste buds.
Hong Kong
Location: South coast of China
Average Temperature: 14-21°C (57.2-69.8°F)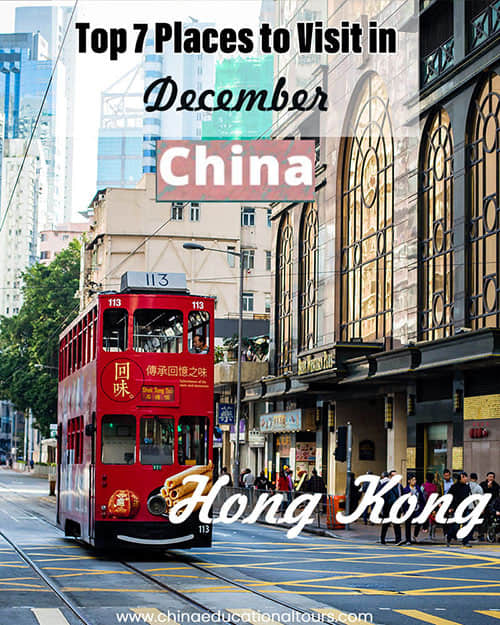 With relatively low humidity and little rainfall, Hong Kong makes a great place to visit with its towering skyscraper and dramatic skyline. Hong Kong is a popular shopping paradise, and during December there are many winter sales, making it a great place to hunt and do your Christmas shopping. The city is lit with Christmas decorations and a parade to bring in the festive occasion. Disneyland and Ocean Park bring the city's winter wonderland a magical sense of charm.
Take a ride on the Peak tram to Victoria Peak presenting you with a view over central Hong Kong, across Victoria Harbor, and the surrounding islands.
Hong Kong cuisine is known as a food paradise and the best destination in the world. A must-try while in the city is 'Dim Sim'. Dim sums are to the locals what tapas are to the Spanish – small servings of a variety of dishes either steamed, fried, or baked. The steamed dishes are served in small bamboo baskets. Popular food to try is the pineapple bun, Hong Kong-style milk tea, char siu (barbecued pork), fish balls, egg tart, egg waffles, cheung fen (rice rolls), and sui mai (a type of dumpling). You can find these at any street vendors, local cafes, or any restaurants to try this affordable and delicious food. You won't be disappointed.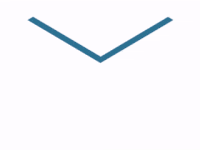 Have a question?
OR
Are you eager to begin your Chinese cultural journey?
Drop us a line and we will promptly connect you with our leading China expert!