Top 7 Places to Visit in November in China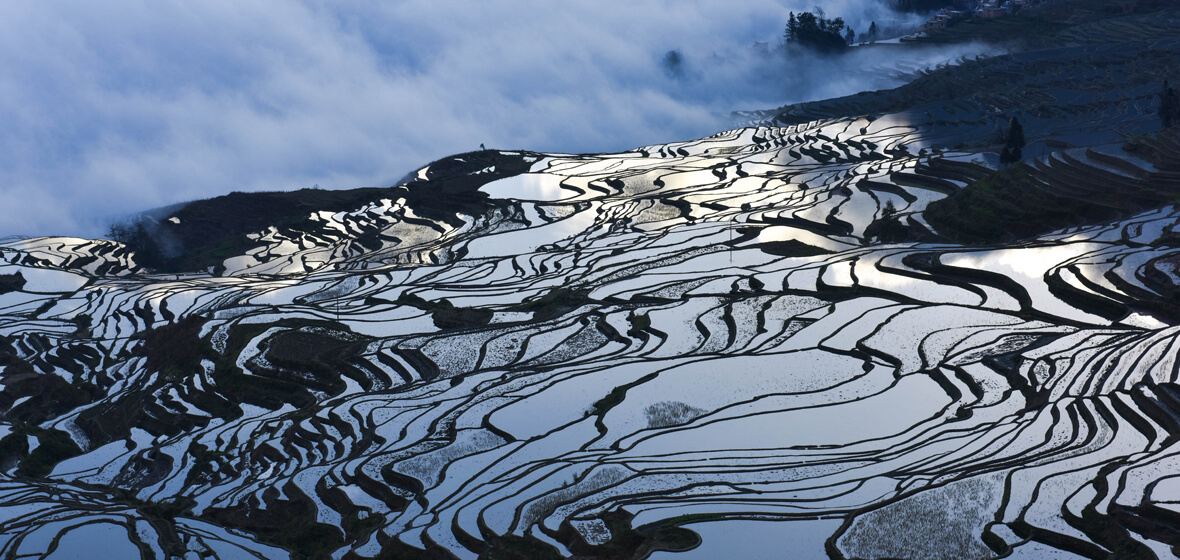 November is the beginning of the winter season in China. The average temperature ranges from 3 to 13 ℃ (37 to 55℉) from the north where it snows to the far south. Despite the extreme temperature range from north to south, visiting China during this time has a lot to offer. You can ski in Beijing and Xinjiang, or just relax and enjoy the beach in Sanya (the temperature can reach to 30 ℃ / 86℉ ).
With this low peak season, November is a great time to visit many sites, due to it being a cost-effective month to travel and fewer crowds.
China Weather in November
Below is the weather information of the most recommended destinations in November. Cities in northern China like Beijing are colder while most of the destinations in southern China are still quite comfortable.
| City | Lowest Minimum (℃/ ℉) | Highest Maximum (℃/℉) | Average Temperature (℃/ ℉) | Average Precipitation(mm) |
| --- | --- | --- | --- | --- |
| Yunnan | 8/46.4 | 19/66.2 | 12/53.6 | 25 |
| Huangshan | 9/48.2 | 18/64.4 | 13/55.4 | 87 |
| Xiamen | 18/64.4 | 24/75.2 | 20/68 | 77 |
| Guilin | 13/55.4 | 20/68 | 16/60.8 | 129 |
| Guizhou | 9/48.2 | 15/59 | 11/51.8 | 42 |
| Chengdu | 10/50 | 16/60.8 | 12/53.6 | 12 |
| Beijing | 1/33.8 | 10/50 | 5/41 | 17 |
Where to Go and What to Do in Nov.
1. Yunnan, colorful clouds in southern China
Location: South-western China
Average Temperature in November: -6~3°C (21~37°F)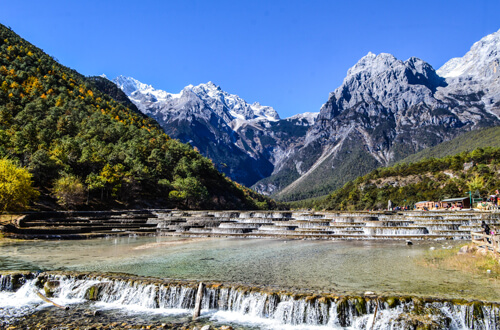 Located in the southwest of China, Yunnan, and known as 'Southern Colorful Clouds', the weather is quite pleasant in November. It's one of the reasons people choose to travel to Yunnan during winter. 52 minority groups are living in Yunnan, giving this place a sea of bright and colorful pearls of scenes from snow capped-mountains, ancient old towns, caves, minority villages, lakes, and terraced fields to name a few.
Yuanyang Terraced Fields is located in the south of Yunnan. It has been inscribed on the World Heritage List in 2013. In the past 1,300 years, the local Hani people have developed a complex system of channels to bring water from the forested mountain tops to the terraces. November is a good time to visit, as the local people begin to irrigate the fields, giving the terraces an image like mirrors scattered across the fields. As the sunrises and sunsets over the terraces, this place gives you a sense of awe as you reflect on the beauty of the landscape.
Highlight spots: Stone Forest in Kunming, Lugu Lake, Lijiang Ancient Town, Shaxi Ancient Town, Tiger Leaping Gorge, Jade Dragon Snow Mountain, Songzanlin Lamasery, Yuanyang Terraced Flied.
Recommended Yunnan Tour Packages
2. Huangshan, the best time to see the sea of clouds
Location: Anhui Province, Eastern China
Average Temperature in November: 9~18°C (48~64℉)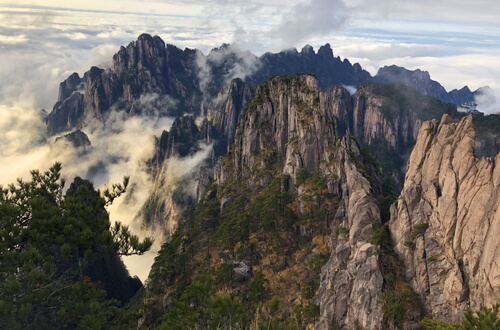 Located in the south of Anhui Province, the Yellow Mountains is one of the top five mountains in China. It is famous for its hot spring, the sea of clouds, winter snow, gorges pine trees, and peculiarly-shaped rocks.
Due to the subtropical monsoon climate, November is the start of wintertime in Huangshan. It's the best time to see the sea of clouds in the Yellow Mountains. The mountains stand at nearly 2,000 meters above sea level. The scenery features high peaks above the clouds and an omnipresent white mist, and with such an ocean of white, the many peaks appear to float in the clouds like islands. Formed by ever-changing patches of mist and fog, they present a unique panorama.
Besides the Yellow Mountains, there are several ancient villages in Huangshan – Hongcun Village, Xidi Ancient Village, Nanping, and Tangmo Village. Each of the villages has its unique architecture and characteristics. Many people still live in the villages where you can discover and learn about their daily life.
Highlight spots: Yellow Mountains, Hongcun Ancient Village, Xidi Ancient Village, and Tunxi Old Street.
Recommended Huangshan Tours
3. Xiamen, Hakka Earth Building
Location: Fujian Province, Southeast of China
Average Temperature in November:18~20°C (64~68℉)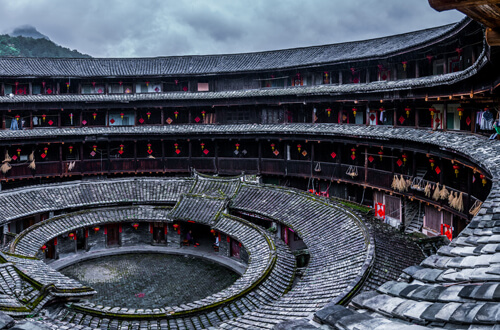 If you want to escape the winter blue, then you need to head down to the south. As a coastal city, the weather in Xiamen is quite comfortable in November. When you are traveling to Xiamen, the Gulangyu Island is a must-see, only about a 7-minute ferry ride from downtown Xiamen City. The Gulangyu is a UNESCO World Cultural Heritage Site. With a population of about 20,000 people that live on the island, every year they receive more than 10 million visitors. The most popular sites on the island are Shuzhuang Garden with the Piano Museum, and Riguang Mountain where you will get great 360 degree views of the island and Xiamen city.
Another highlight near Xiamen is the Tulou (Hakka Earth Building). The most famous places to see these are Yongding, Hua'an, and Nanjing which is about a 3-hours drive from Xiamen City.
Highlight spots: Gulangyu Island, Huandao Road, Fujian Tulou, Mt. Wuyi, Xiamen University
Recommended Xiamen Trip
4. Guilin, the landscape top the world
Location: Guangxi Zhuang Autonomous Region, Southern China
Average Temperature in November: 13~16°C (55~60℉)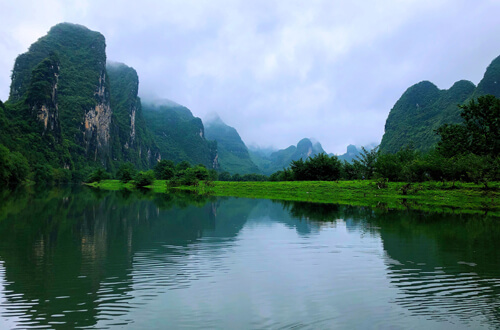 Guilin is an ideal place to visit in November as the weather is still quite pleasant, making it an ideal place to do some outdoor activities, like hiking, biking, mountain climbing, and rocking climbing. Guilin is famous for its natural karst mountains and beautiful countryside. To immerse yourself in the beautiful landscape, you can climb one of the solitary peaks and enjoy a bird's eye view of the Li River and the mountains. The best place we would recommend is Xiangong Mountain where you can take panoramic pictures of the river and mountains.
Yangshuo is another popular and relaxed destination in Guilin. It has been called the paradise for outdoor activities. You can grab a bicycle and leisurely explore the local villages or go rock climbing. If that is not your thing, there is an array of activities if you want to relax and take it easy – take a bamboo raft and enjoy the 1-hour ride on the Yulong River, or you can take some classes to learn more about the culture, such as Chinese Cooking, Taiji, Calligraphy and Painting Classes. There is always something for everyone to do and enjoy.
Highlight spots: Li River, LongLi River, Reed Flute Cave, Elephant Trunk Hill, Longji Terraced Rice Fields, Yulong River Bamboo Raft
Recommended Guilin Tour Packages:
5. Guizhou, Explore the minority villages
Location: Southwestern China
Average Temperature in November: 9~15°C (48~59℉)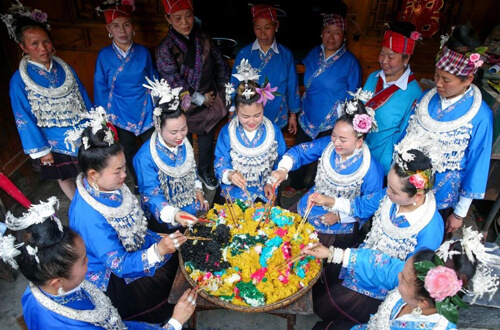 Located in the southwest of China, Guizhou Province has a population of more than 38 million and is home to most of China's ethnic minority groups. The capital city is Guiyang City – the entrance point when visiting Guizhou. The Huangguoshu Waterfall is the highlight that you should not miss if you are paying a visit to Guiyang. It's one of the biggest waterfalls in China standing at 77 meters (255 ft) high and 101 meters (331 ft) wide.
Many ethnic minority groups live in villages near Kaili, a 3-hour journey from Guiyang, hence making this city a recommended destination and entrance to these villages. Shiqiao Village is composed mostly of people from the Miao ethnic group, the village is well known for its ancient papermaking technique that dates back to the Tang Dynasty (618-907).
Another is Matang Gejia Village, known for their batik, is where you may find an opportunity to learn about the process. A visit to this province would not disappoint with the abundant villages each with its unique customs, culture, language, and the surrounding beautiful countryside.
Highlight spots: Huangguoshu Waterfall, Shiqiao Paper Making Workshop, Jidao Miao Village, Matang Gejia Village, Zhaoxing Dong Village.
Recommended Guizhou Tours
6. Chengdu, Giant panda's Home
Location: Sichuan Province, Southwestern China
Average Temperature in November: 10~16°C (50~60℉)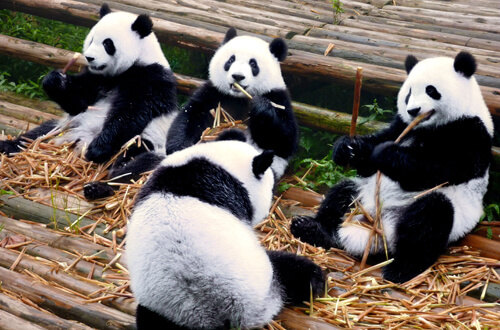 Chengdu the capital city of Sichuan Province and home to the giant pandas, there are many things you can do. There are three panda research bases near Chengdu. The most well-known is Chengdu Panda Research Base and only a 40-minute drive from downtown. We recommend the Bifengxia Panda Research Base if you want to take part in the volunteer program – where you can feed the pandas, help clean their cages and prepare their food.
If you have 4 to 5 days in Chengdu, the other highlight we would recommend is Mount Emei about 2.5 hours drive from downtown. The 72 peaks of Mount Emei stand about 2,000 meters above sea level. There is a sea of clouds that surround Mount Emei for about 300 days per year. We highly recommend an overnight stay. Mount Emei has been listed in the World Natural and Cultural Heritage by UNESCO in 1996. On the way to Mount Emei, the Leshan Giant Buddha is another highlight which you should not miss. It's 71 meters high and took 90 years to complete this amazing masterpiece during the Tang Dynasty.
Highlight spots: Chengdu Panda Research Base, Jinli Ancient Street, Wenshu Temple, Sanxingdui Ruins, Qing Cheng Mountain, Emei Shan (Mt. Emei) and Leshan Giant Buddha.
Recommended Chengdu Tours
7. Beijing, see the Great Wall
Location: Capital City, Northern China.
Average Temperature in November: 1~10°C (33~50℉)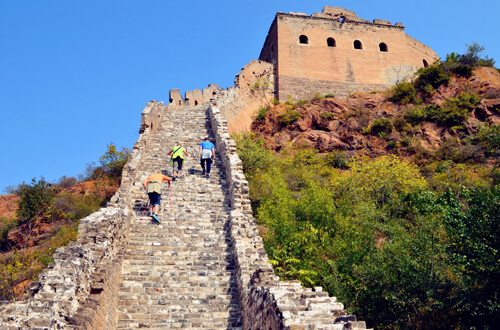 As the capital city, Beijing is always a must for first-time visitors. November is a good time to visit Beijing, due to it being a low season for the tourist industry. Furthermore, the weather is not as cold, hotels are cheaper and there are fewer crowds.
The Great Wall is always the main attraction, and there are several sections where you can hike. From Jinshanling section to the west of the Simatai section is a classic Great Wall hiking travel route due to it being less restored – taking you on a journey back in time. Enjoy the stunning breath-taking views and the stretch of the Wall across the landscape. The hike from Jinshanling section to Simatai West takes about 3 hours.
Highlight spots: Mutianyu Great Wall, Forbidden City, Summer Palace, Temple of Heaven, and Tiananmen Square.
Recommended Beijing Tours
---
Make November the month for you to travel across China, due to fewer crowds, where you can walk the Wall or stroll the beaches. Talk to us and we can help you plan your winter getaway catered to your interest and timeframe.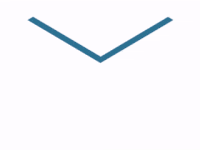 Have a question?
OR
Are you eager to begin your Chinese cultural journey?
Drop us a line and we will promptly connect you with our leading China expert!