Kunming Weather in February
The temperature in February rises a bit. The highest maximum temperate has climbed to 23℃/73.4℉ and the average minimum is 3℃/37.4℉. There are more sunny days than snowy days during this month.
| | | | | |
| --- | --- | --- | --- | --- |
| | Average Maximum | Average Minimum | Highest Maximum | Lowest Minimum |
| ℃ | 17 | 3 | 23 | -2 |
| ℉ | 62.6 | 37.4 | 73.4 | 28.4 |
Sunny Days: 17 days
Cloudy Days: 2 days
Rainy Days: 3 days
Overcast Days: 3 days
Snowy Days: 3 days
What to wear and bring?
Early February
In early February, there are likely to be a couple of snowy days, and the lowest minimum temperature is -2℃/28.4℉. The maximum temperature is between 4℃/39.2℉ and 19℃/66.2℉. You will need to wear warm clothing such as a wind-proof coat, a leather jacket or a down-filled jacket. Don't forget to take an umbrella when you go out.
Mid-February
During the middle period of this month, there could be up to 10 sunny days. It is pleasant enough to go out and have a good time. During this period, the highest maximum is around 22℃/71.6℉. You could wear short sleeves, thin jeans or casual clothes by day, but you will need to wear wind-proof coats, jackets and other warm clothes by night.
Late February
In late February, the weather is similar to mid-February. The temperature can be from 19℃/66.2℉ to 21℃/69.8℉. Long sleeves, thick jeans, wind coats and jackets are adequate clothing.
Historical Kunming Weather in February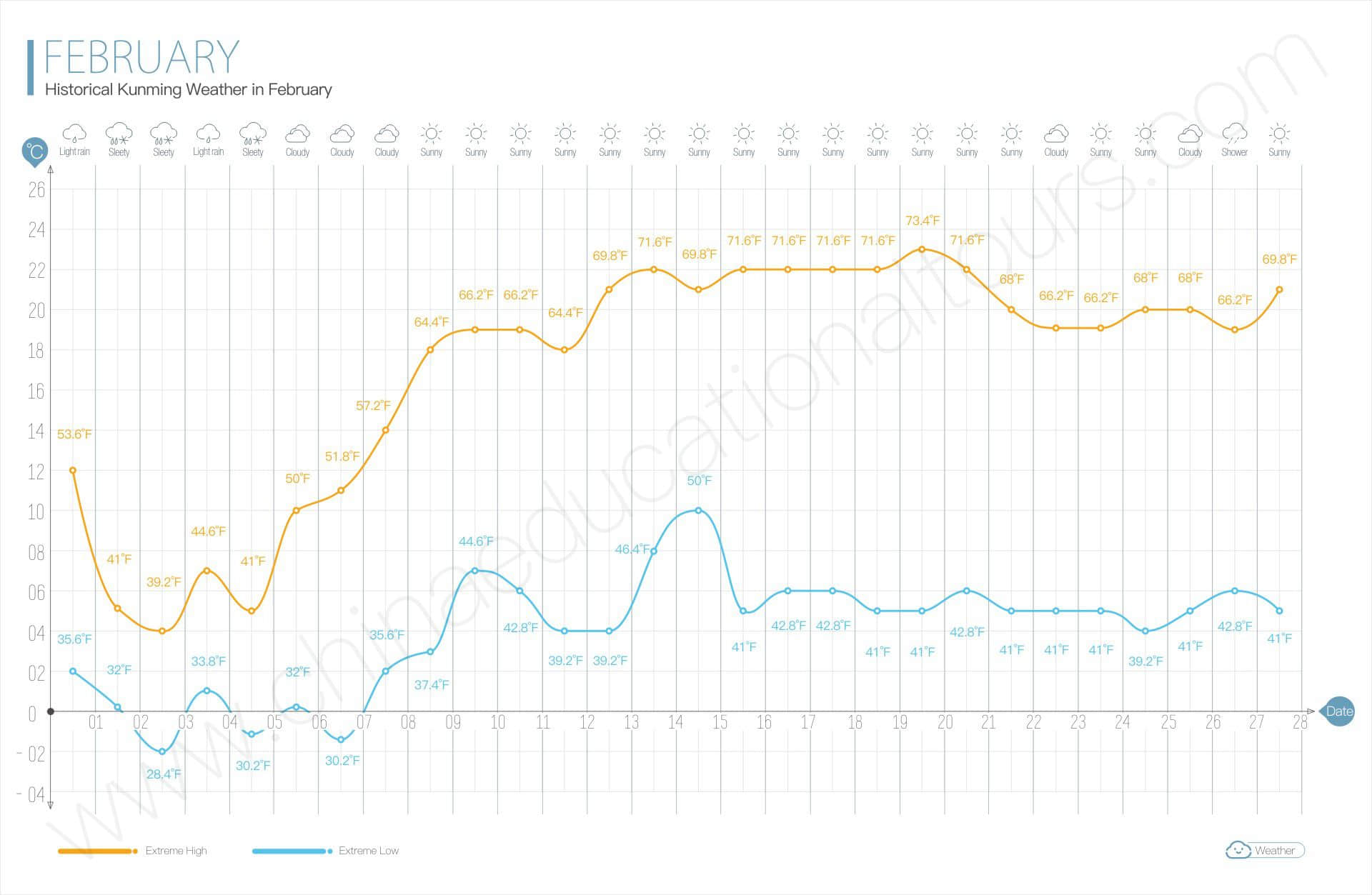 click here to enlarge
Have a question?
OR
Are you eager to begin your Chinese cultural journey?
Drop us a line and we will promptly connect you with our leading China expert!