Top 8 Routes for Independent Trekking in China (With 8 Hand-drawing Maps)

There are few destinations in the world that are as remarkable and overwhelming as China. Traveling in China on foot is a thoroughly exciting opportunity to admire its staggering diversity of customs and scenery. For expert trekkers, there are so many options and here we recommend the top listings that you don't want to miss. Now, take a deep breath and dive in!
1. The Great Wall, Beijing
Known as one of the world's top 7 miracles, the Great Wall of China is always sought after by visitors and hikers from home and abroad. Different sections of the Great Wall can meet the various hiking levels. Juyongguan, Badaling and Mutianyu sections are well restored and suitable for beginner hikers. A cable car is available at Badaling and Mutianyu, so you can choose to take the cable car if hiking up and down is too stressful. The Jinshanling and Simatai sections are half restored and half wild, and have much fewer visitors. They are perfect for moderate hiking of 3-5 hours. Jiankou, the wild part of the Great Wall with the least restoration, is the most difficult section. It is only recommended for expert hikers. To hire a local hiking expert is highly recommended to secure safety. We can help you plan a day trip to one of the sections. You can also visit the Wall by public transportation. A two or three days' trip is possible with camping on the Wall. For experienced trekking lovers, we recommend at least 2 days hiking on the Wall.
Recommended Great Wall Hiking Route:
Day 1, Beijing hotel transfer to Jiankou and then hiking to Mutianyu (5hrs, 10km hiking), overnight at a local farmer's guesthouse.
Day 2, Transfer from Mutianyu to Jinshanling, hiking all the way to Simatai West, and then return to Beijing in the late afternoon (3 hrs, 5km hiking).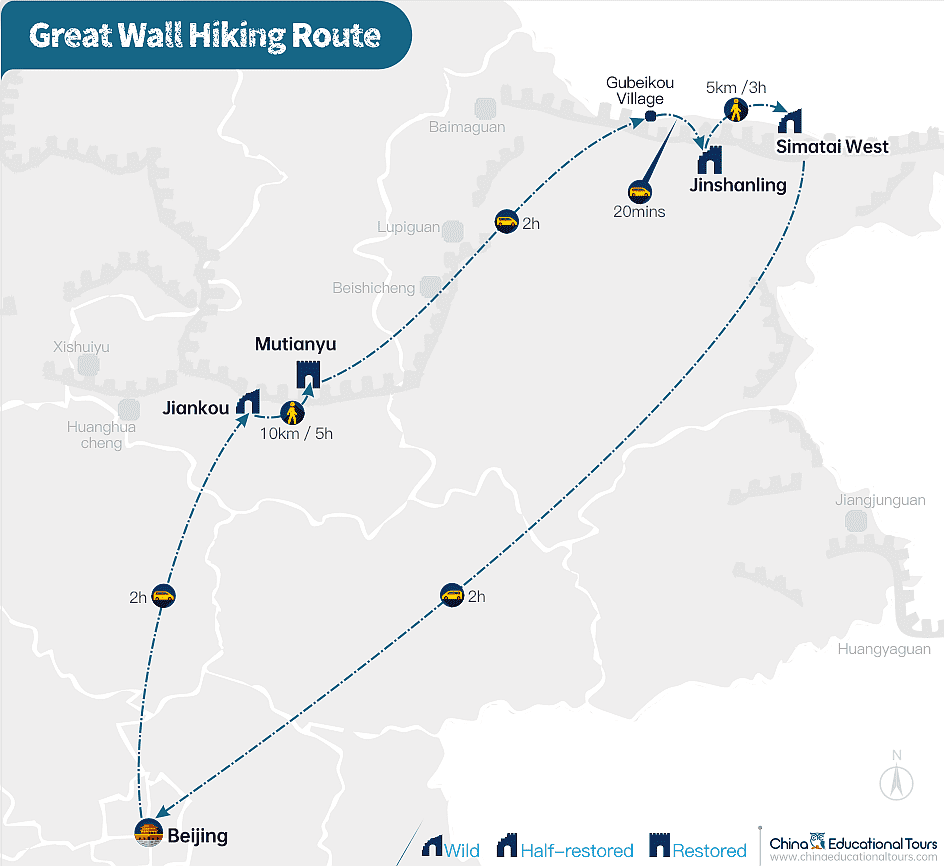 To check the features of each section, please click HERE.
Best Season to Hike the Great Wall
Spring and Autumn, April, May, June, September till early November.
CET Popular Great Wall Hiking Tours
2. Tiger Leaping Gorge, Yunnan
With Haba Snow Mountain and Jade Dragon Snow Mountain on either side, Tiger Leaping Gorge is famed as the world's deepest gorge. It is divided into upper, middle and lower sections to be more convenient for visitors. We usually recommend hiking from the high road at the Upper section to the bottom of the Middle Section. It is a moderate level of difficulty and requires good physical condition to accommodate the maximum 2650m / 8690ft altitude. The hike will take you to a wonderland of steep cliffs, local Naxi residents, and the raging Jinsha River.
Recommended Tiger Leaping Gorge Hiking Route
Day 1, Lijiang/Shangri-La to Tiger Leaping Gorge, Qiao Town – Naxi Family Guesthouse – 24 Bends – Tea Horse Guesthouse – Halfway Guesthouse, 17km/ 10.5miles, 7-8hrs hiking.
Day 2, Halfway Guesthouse – Teacher Zhang's Guesthouse – Middle Tiger Leaping Gorge – Tina's Guesthouse, 10km/6.2miles, 5hrs hiking.
Click here to see full itinerary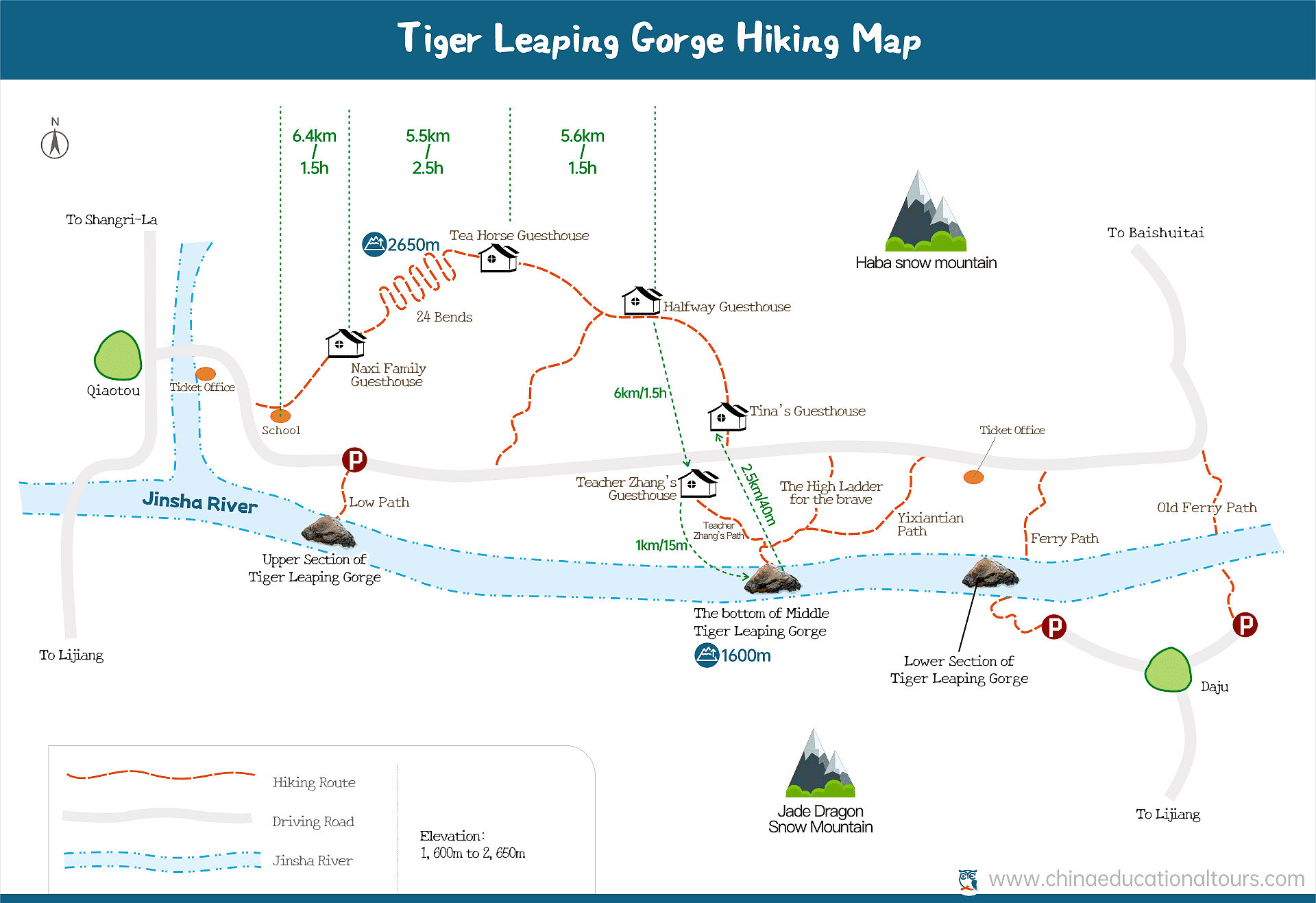 Best Season to Hike the Tiger Leaping Gorge
From April to June, and from September to November, are good seasons to hike Tiger Leaping Gorge. Rainy seasons from late June to August are not recommended for hiking as the paths can get really sloppy and slippery.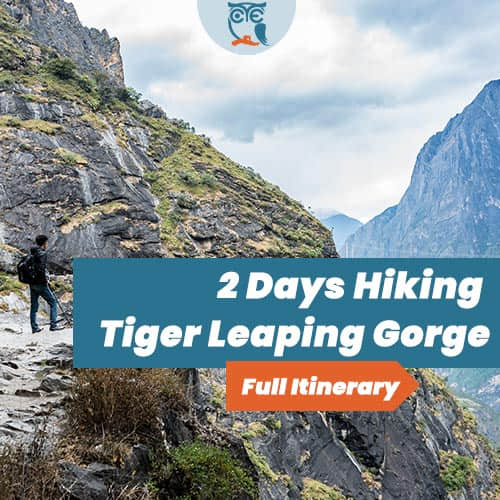 3. Daocheng Yading, Sichuan
Located at Daocheng County, Ganzi Prefecture of Sichuan Province, and known asthe "Soul of Shangri-La", or "Last Pure Land on the Blue Planet", Yading has been dreamed about by photographers and expert hikers for years ever since Joseph Rock published his unbelievable photos. Daocheng Yading (or Yading Nature Reserve) trekking is a breathtaking opportunity to appreciate the snowy mountains (Xiannairi, Yangmaiyong and Xianuoduoji), high plateau grassland (Chonggu Meadow, Luorong Cattle Farm) and lakes (Milk Sea, Five Color Sea and Pearl Sea), as well as immersing yourself in Tibetan culture. There are various wild animals and lush plants in the Reserve, which makes it a dreamland for nature lovers. The trekking is quite challenging because of the high altitude of 2,950m (9,678 ft) to 4,700m (15,091ft). You will, however, find it's worth all the effort after completing the entire trekking.
Recommended Daocheng Yading Trekking Route
Day 1, Fly to Daocheng Yading Airport (DCY) and transfer to Shangri-la Town, rest and adapt yourself to the altitude.
Day 2, Shangri-la Town – Yading Nature Reserve (Chonggu Meadow – Chonggu Monastery – Pearl Lake – Mount Chianrezig), 12 km / 7.4 miles, 4-5hrs hiking.
Day 3, Yading Nature Reserve (Luorong Pasture – Milk Lake – Five Color Lake), Return to Daocheng in the late afternoon, about 13 km/ 8 miles, 7-8hrs hiking.
Full itinerary about Daocheng Yading Hiking Tour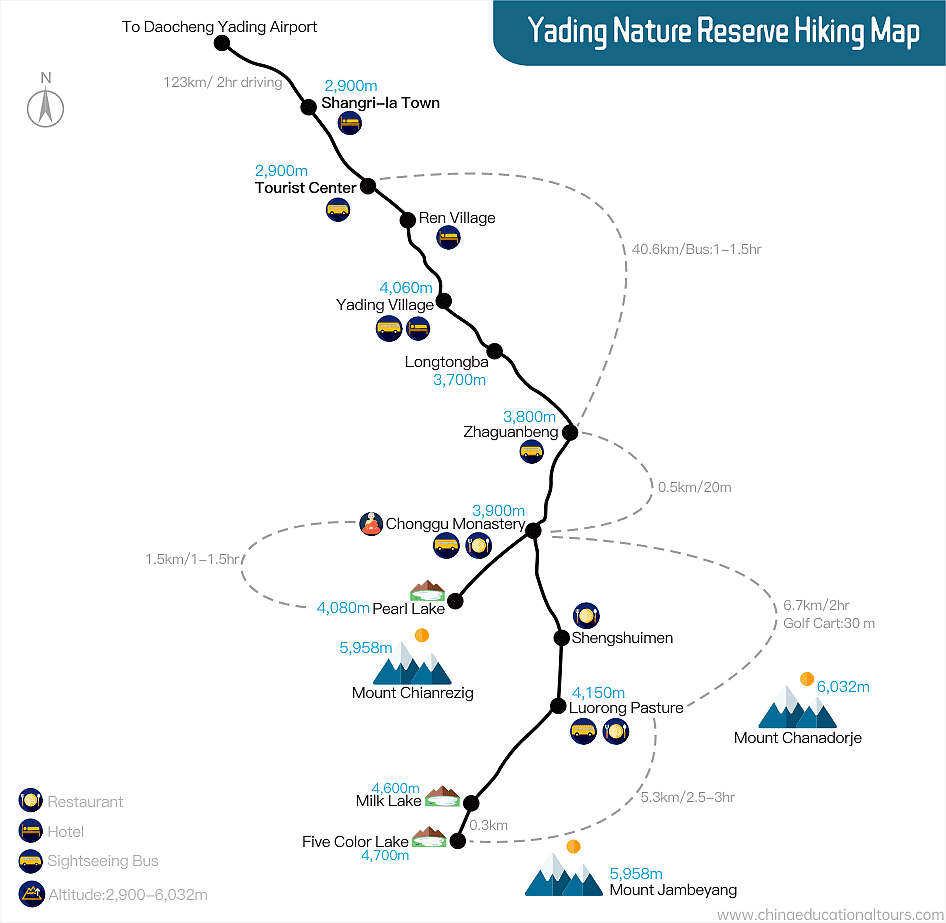 Best Season to Hike the Yading Nature Reserve
April, May, September and October.
4. Yubeng, Yunnan
Yubeng, a small Tibetan village with only 20 households, is located at Deqin County, northwest of Yunnan Province. Lying in a beautiful valley at the foot of the Meili Snow Mountain Range (or Kawa Karpo), it is divided into Upper and Lower Yubeng by a gorge. Both halves are the starting points for some gorgeous alpine hikes to waterfalls and glaciers, where you can admire the snow-capped mountain peaks, high plateau meadows and lush forests. Due to its remoteness, high altitude, rough infrastructure, as well as breathtaking views, it has become the sought-after destination for trekking enthusiasts. We usually recommend flying from any big cities to Diqing Shangri-La first and then driving to Deqin County and then starting your journey. Along the trek, only hostels (both dorm beds and private rooms available) are available for lodging. Food can be very common. So it's better to bring enough snacks and fast food if you can't compromise.
Recommended Yubeng Trekking Route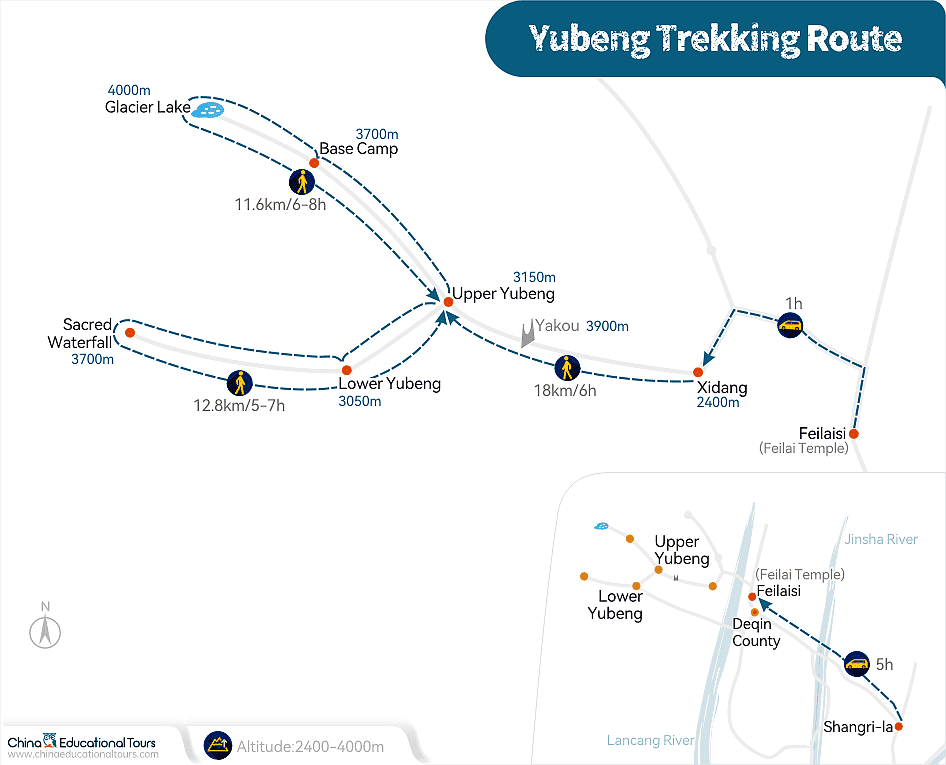 Day 1, Bus from Shangri-La to Deqin County, and continue onto Feilaisi (5 hours). Stay in Feilaisi one night. It is worth staying for one night where you can enjoy the magnificent view of the sunrise and sunset over Meili Snow Mountains.
Day 2, Take a local van from Feilaisi to Xidang (1 hour), hike from Xidang (2,400m / 7,874ft) to Upper Yubeng Village (3,200m/ 10,498 ft). The first uphill 12km is the hardest part when you reach the highest point of 3,729m / 12,234 ft. You can choose to ride a mule to save some energy. The following journey is relatively easier going downhill to Upper Yubeng. Overnight here in a local villager's hostel. 18km/ 11 miles, 6 hrs hiking, 1,330m/ 4,363 ft ascent, 529m/ 1,735ft descent.
Day 3, Upper Yubeng to Glacier Lake, Base Camp and back to Upper Yubeng, 11.6 km/ 7.2 miles, 6-8 hrs hiking, 700m/ 2,296ft ascent and descent.
Day 4, Upper Yubeng to Lower Yubeng to Sacred Waterfall and back to Upper Yubeng, 12.8km/ 8miles, 5-7 hours hiking, 457m/ 1,500ft ascent and descent.
Day 5, Get out of Yubeng by the same way as entry. (Note: Ninong route is the other option but we don't recommend as it is more sloppy and risky.)
Contact us to arrange an adventure tailored for you.
Best Season to Hike Yubeng
May to June are the best times to enjoy alpine rhododendron; July and August are the most active times with yaks running on green meadows, but be careful of raining; September and October are the seasons when Tibetan villagers worship the holy mountains, so you will get to learn more about their culture and customs.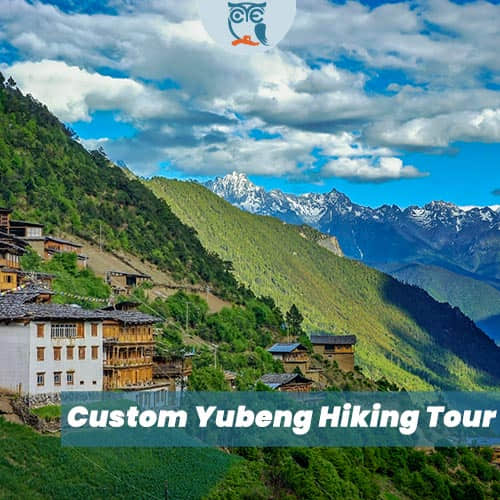 5. Mount Emei (Emeishan), Sichuan
For mountain hike lovers and Buddhists, Mt. Emei shouldn't be missed. It is known as one of the 5 sacred Buddhist Mountains of China. It is 3100m (10170ft) high, with varieties of tropical flora, beautiful waterfalls and lakes, wild animals (especially monkeys), dozens of Buddhist temples, and, of course, thousands of stairs. If you are an outdoors type of person who loves encountering Buddhist culture and natural beauty, this is the hike for you. The hiking routes are flexible based on your time table, physical condition and interest. We recommend an in-depth 3-day hike from Qingyin Pavilion at the bottom all the way to the very top point -- Golden Summit. You will climb some 60,000 stairs but it will definitely be worth it. Please kindly note that the lodging along the trek are very basic guesthouses.
Recommended Mount Emei Hiking Route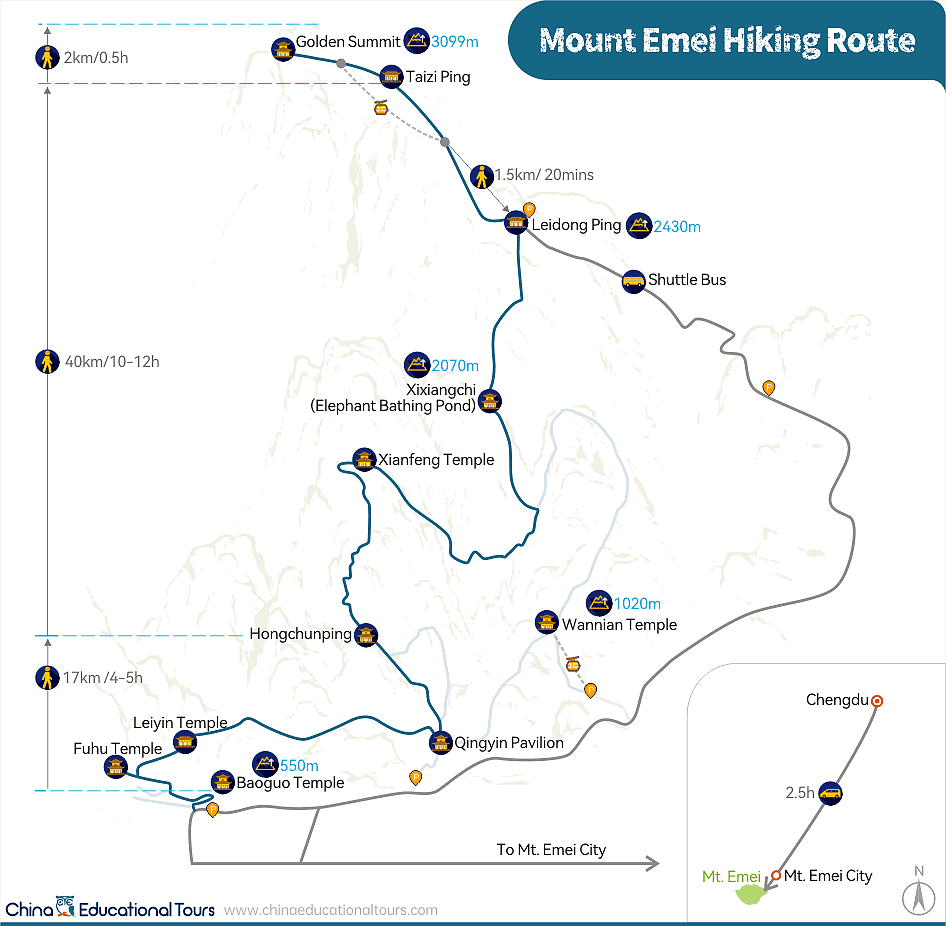 Day 1, Chengdu to Mt. Emei (2.5hrs bus ride), pay a short visit to Baoguo Temple, and then start hiking, passing Fuhu Temple, Leiyin Temple, Qingyin Pavilion, and overnight at Hongchunping. The highlight of this day is passing the Monkey Zone where you can see lots of wild monkeys. 17km/ 10.5miles, 4-5hrs hiking.
Day 2, Hike from Hongchunping all the way to Taizi Ping, en-route Xianfeng Temple, Xixiangchi (Elephant Bathing Pond), Leidong Ping. This is a very long trek with some steep steps. 40km/ 24.8 miles, 10-12 hours hiking.
Day 3, In order to catch a chance to see the sunrise over the Golden Summit, you need to get up early and start at 5:30. In about 30 minutes, you will arrive at the top. It will be windy and the temperature will be low. You can enjoy a gorgeous sunrise if you are lucky enough. Don't be upset if the sun doesn't come out – this is very normal. You can then take the shuttle bus down (2 hours) and catch a bus back to Chengdu in the afternoon.
Contact us to tailor-make the Emei hiking tour
Best Season to Hike Mount Emei
April to June and September to November when the weather is more enjoyable and there is much less crowds.
6. Changping Valley to Bipeng Valley Traverse, Sichuan
This route is a classic trek through the Mount Siguniang (Four Sisters Mountains) range. It is only recommended to enthusiastic mountain hikers. Alpine scenery of lakes, meadows, virgin forests, snow mountains, as well as Tibetan culture are what you are expecting from this trek. The entire trek should be led by a local professional hiking guide, horses and porters. It is not suggested that you try this on your own for its extreme conditions of high altitude and wildness. The elevation rises from 3,200m (10,498ft) up to 4,668m (15,315ft) and then descends to 2,240m (7,350ft). Hence, good physical condition is essential. It is wise to take some anti-altitude sickness drugs beforehand or consult with your doctor if you have any basic diseases.
Recommended Changping to Bipeng Trekking Route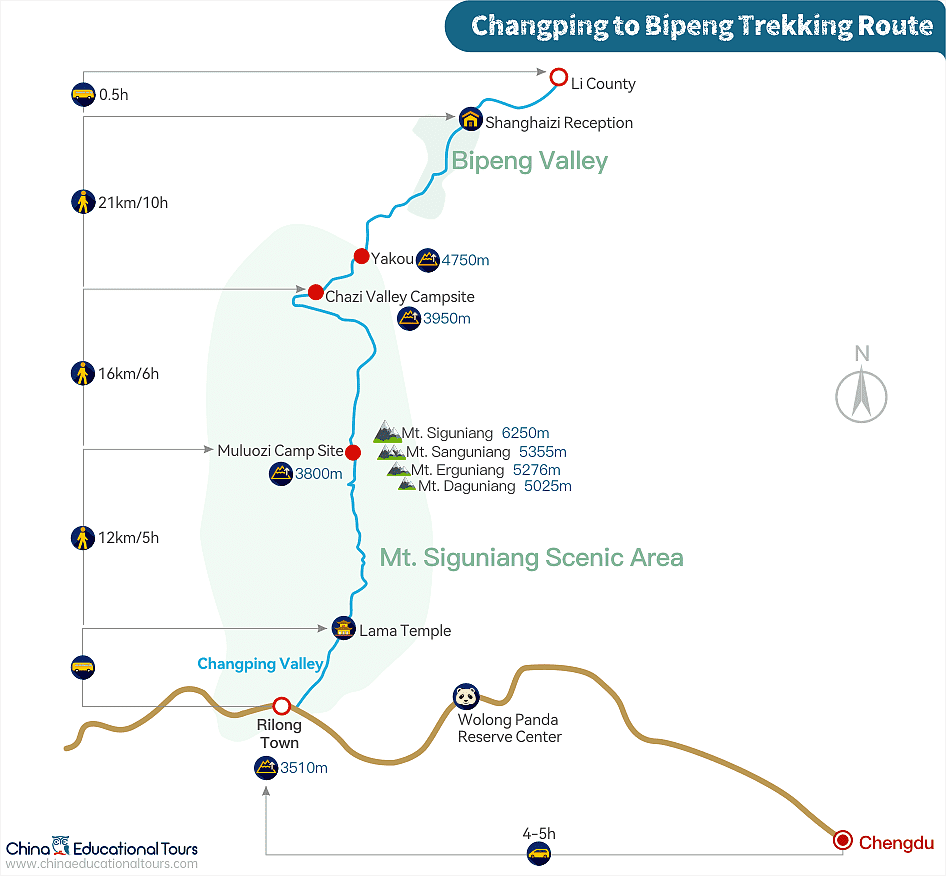 Day 1, Chengdu to Rilong (Siguniang) Town by bus (4-5 hrs), en-route you can pay a visit to Wolong Panda Reserve Center, overnight at a local hostel in Rilong (3,200m / 10,498ft).
Day 2, Take the shuttle bus to enter Changping Valley, Mount Siguniang Scenic Area. Start the trek from Lama Temple to Muluozi campsite. 12km/ 7.5 miles, 5 hrs hiking, 560m/ 1,837ft ascent.
Day 3, Hike from Muluozi to Chazi Valley Campsite. Today's trekking is relatively easy and leisurely so you can enjoy the scenery and take lots of photos. Save your energy for the next day. 16km/ 10 miles, 6hrs hiking, 140m/ 460ft ascent.
Day 4, Hike over Yakou (4,668m/ 15,315ft) to Bipeng Valley. This is the most challenging day. The first 6km is going up to the highpass, which is very steep. Then you will descend to Sankeshu campsite at Bipeng Valley. Continue hiking to Shanghaizi (Upper Lake) Reception and then take a vehicle to Li County where you will spend the night. 21km/ 13miles, 10hrs hiking, 908m/ 2,980ft ascent, 2,428m/7,965 descent.
Day 5, Return to Chengdu (3 hours driving).
Best Season to Hike from Changping to Bipeng Valley:
September to October are the best months.
7. Gandan Monastery to Samye Monastery, Lhasa, Tibet
Both Gandan and Samye Monasteries are sacred Tibetan Buddhist temples. This was originally the walking path for monks and the Tibetan villagers' pilgrimage between the monasteries. Now it has become one of the most popular hiking routes in Tibet for a deep insight into Tibetan Buddhism and a beautiful exposure to the true taste of a Tibetan highland adventure. Along with admiring the breathtaking vision of nature, you will finally gain inner peace spiritually. You will hike at an average altitude of 4500m, and camp for 3 nights. It is wise to stay one night in Lhasa or Gandan Monastery before the trekking starts so as to adapt yourself to the harsh conditions and be fully prepared both physically and mentally.
Recommended Gandan Monastery to Samye Monastery Trekking Route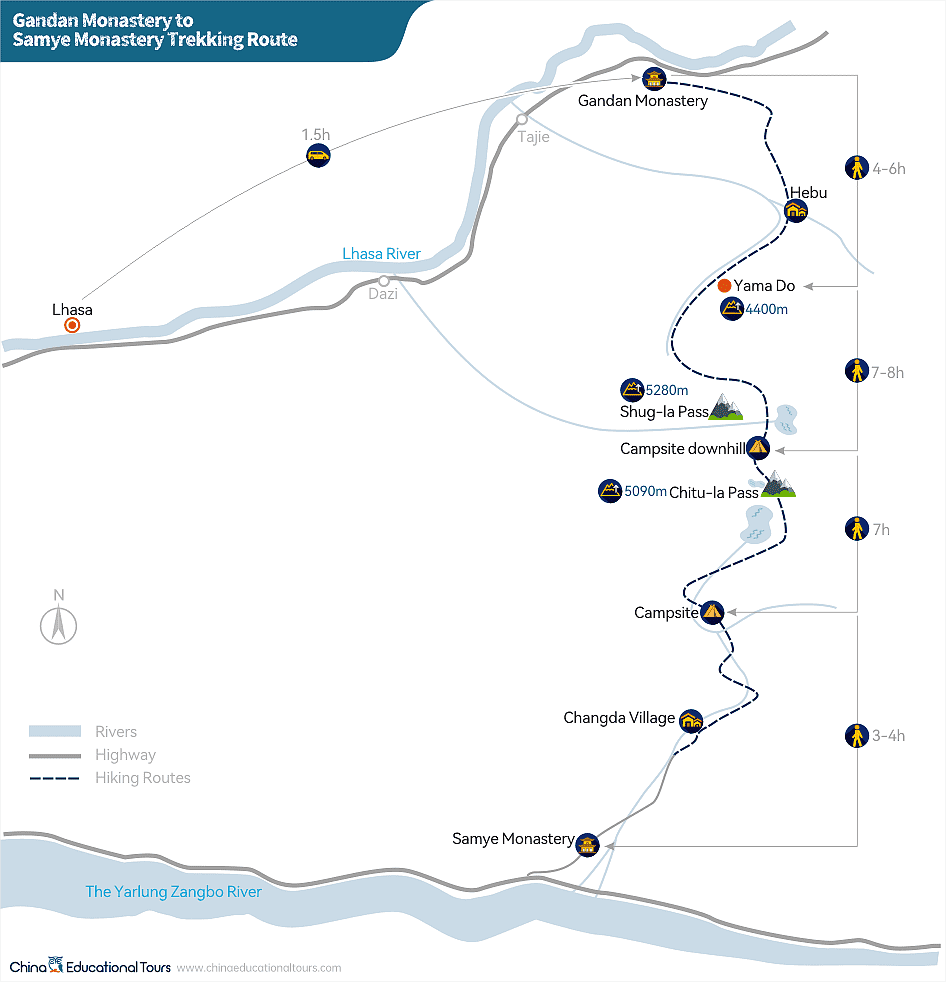 Day 1, Take bus from Lhasa to Gandan Monastery and hike to Yama Do (altitude 4,400m/ 14,435ft), 6hrs hiking, 200m/656ft ascent.
Day 2, Yama Do to the next campsite via Shug-la Pass (altitude 5,284m / 17,335ft), 7-8 hrs hiking, 880m/ 2,887ft ascent, 480m/ 1,574ft descent.
Day 3, Hike to the next campsite via Chitu-la Pass (altitude 5,228m / 17,152ft), 7hrs hiking, 290m/ 950ft ascent, 1,090m/ 3,576ft descent.
Day 4, Hike to ChanDa village and catch a tractor to Samye Monastery, pay a visit before taking a bus back to Lhasa, 3-4 hrs hiking.
Best Season to Hike from Gandan Monastery to Samye Monastery
From end of April to October.
8. Mount Kailash Kora, Tibet
Mount Kailash (Mt Gang Rinpoche in Tibet, meaning "The Precious One") is a sacred mountain and a pilgrimage site for Hindus, Buddhists, and members of the Bon and Jain faiths. It is also considered to be the holiest mountain in the world. To complete a Kora around Mount Kailash is a life-time achievement for pilgrims across Asia. It is also the world's top alpine trekking route for the gorgeous views and the culture of Tibetan Buddhism. It requires strong perseverance to complete this 52km trekking in 3 days at such a high altitude (averaging 5,000m/ 16,404ft). The lowest point at Darchen is 4,675 m (15,338 ft) while the highest at Drolma La Pass is 5,630 m (18,471 ft). A local expert hiking guide is highly recommended to lead your trek. The lodging is in a local guesthouse, which is very basic, so you want to bring your own sleeping bag and other necessities.
Recommended Mount Kailash Kora Route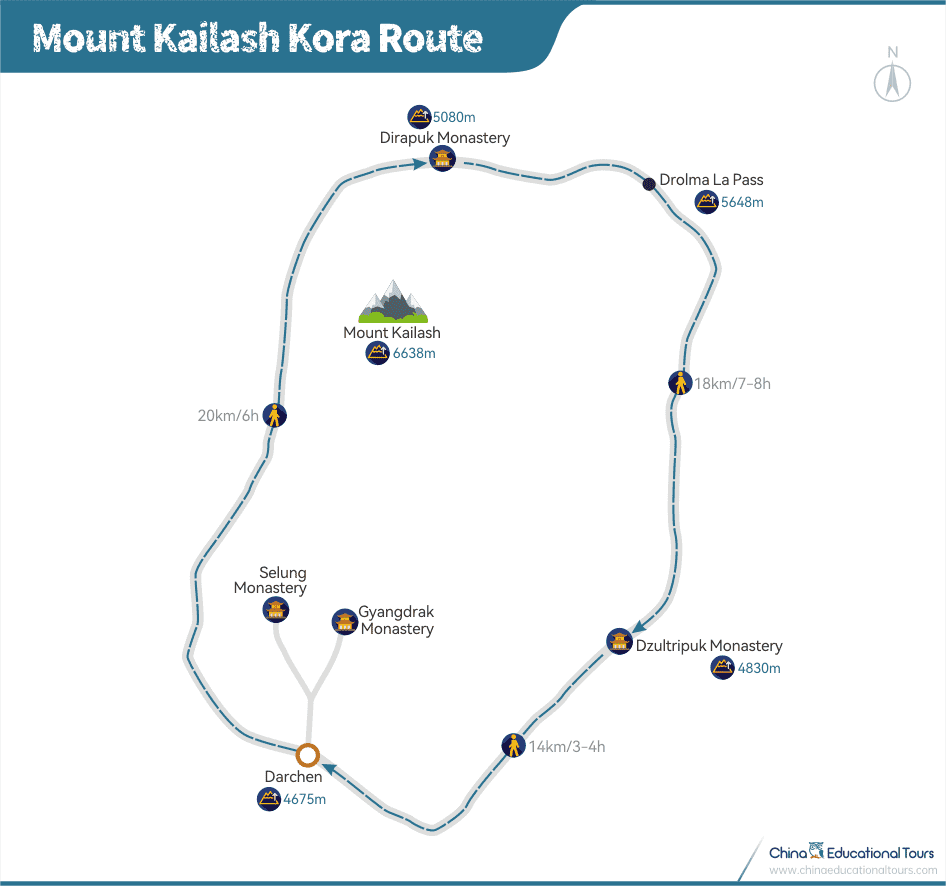 Day 1, Darchen – Dirapuk Monastery. 20km/ 12.4miles, 6 hrs hiking, 200m/656ft ascent. Darchen can be reached by flight and long-distance bus from Lhasa.
Day 2, Dirapuk Monastery to Dzultripuk Monastery. 18km/ 11miles, 7-8 hrs hiking, 550m/ 1,804ft ascent, 600m/ 1,968ft descent.
Day 3, Dzultripuk Monastery back to Darchen. 14km/ 8.7 miles,3-4 hrs hiking, 150m/492ft descent.
Best Season to Hike Mount Kailash Kora
It is good to do the trekking from April to October but be aware of the rainy seasons in July and August.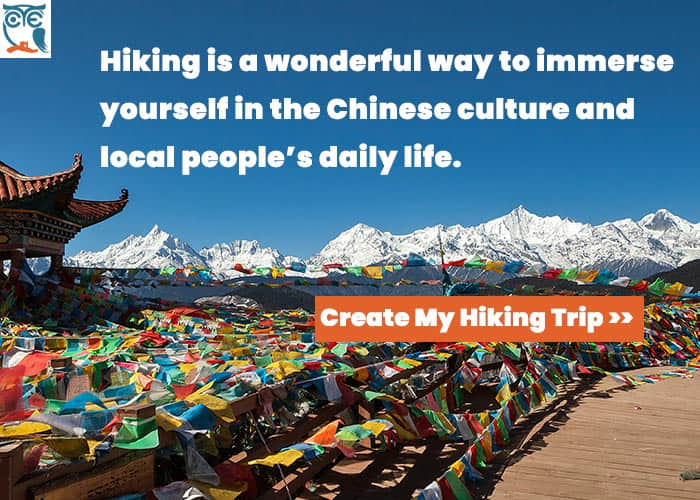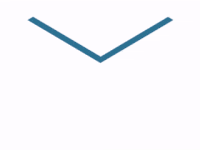 Have a question? Or can't wait to immerse yourself in the engaging journey of Chinese culture? Send us a message! Our top China specialist is ready to assist and connect with you without delay!