Top 10 Populous Cities in China

Up until the end of 2019, the population of China was 1.4 billion, based on the latest revision of the China National Bureau of Statistics. As part of the development and policy of China, more and more people are going to work in big cities. The presence of immigrant workers has made some cities over-sized. Here we list the top10 largest cities in China by permanent population (2019). Some are renowned, while others may seem completely new to you.
| | City | Population | Area | GDP(2019) | GDP per Capita |
| --- | --- | --- | --- | --- | --- |
| 1 | Chongqing | 31.24 million | 82402 km2 (31,815 sq. mi) | 337 billion USD | 10,787 USD |
| 2 | Shanghai | 24.28 million | 6340 km2 (2448 sq. mi) | 544 billion USD | 22,405 USD |
| 3 | Beijing | 21.53 million | 16410 km2 (6336 sq. mi) | 505 billion USD | 23,455 USD |
| 4 | Chengdu | 16.58 million | 14335 km2 (5534 sq. mi) | 243 billion USD | 14,656 USD |
| 5 | Tianjin | 15.61 million | 11966 km2 (4620 sq. mi) | 201 billion USD | 12,876 USD |
| 6 | Guangzhou | 15.30 million | 7434 km2 (2870 sq. mi) | 337 billion USD | 22,026 USD |
| 7 | Shenzhen | 13.43 million | 1997 km2 (771 sq. mi) | 384 billion USD | 28,592 USD |
| 8 | Baoding | 11.49 million | 19000 km2 (7336 sq. mi) | 53.8 billion USD | 4,682 USD |
| 9 | Wuhan | 11.21 million | 8569 km2 (3308 sq. mi) | 231 billion USD | 20,606 USD |
| 10 | Shijiazhuang | 11.03 million | 14464 km2 (5584 sq. mi) | 83 billion USD | 7,525 USD |
The latest population census of China was in 2010, and the demographic data in this list were calculated from the population sample survey by Bureau of Statistics in each city.
1. Chongqing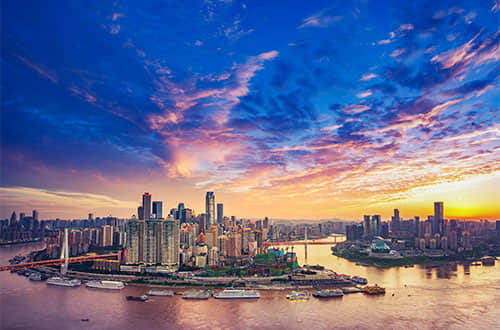 Chongqing is the largest municipality in China for both area and population. Chongqing is also the main berth for Yangtze River Cruise boats enroute to the Three Gorges Dam, which serves as a major source of hydroelectric power in the region. This city is the economic, manufacturing and transport hub in southwestern China and it is an important manufacturing and industrial base. It is also a prominent modern port city on the upper Yangtze River.
In 2017, the central government of China set up the "China (Chongqing) Pilot Free-Trade Zone". By the end of 2019, a total of 293 Fortune 500 companies had settled their branches in Chongqing. Chongqing has become one of the fastest growing cities in China, and that economic growth is not expected to slow down.
Famous attractions in Chongqing:
Dazu Rock Carvings, Hongyadong Shopping Area, Ghost City of Fengdu, and Three Gorges Museum.
2. Shanghai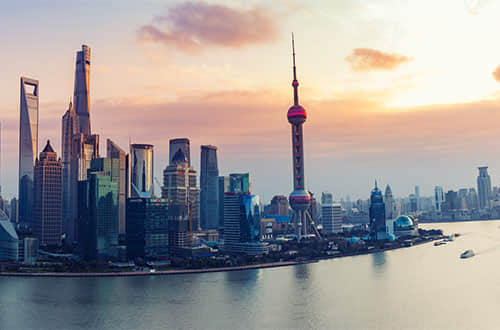 Shanghai is located in the Yangtze River Delta of eastern China. As the financial center, Shanghai plays an important role in China's economy. Shanghai port is one of the largest ports in the world. The main industries of Shanghai are financial, international trade, auto manufacturing, complete equipment, real estate and electronic manufacturing.
Because of fast-paced urbanization in the region, government policy and strong economic growth, the population of Shanghai is still growing. But the rate of population growth has declined in the last few years because of the low birth rate, aging population and migration.
Famous attractions in Shanghai:
The Bund, Yuyuan Garden, The Oriental Pearl Tower, The Former French Concession, and Shanghai Disneyland.
3. Beijing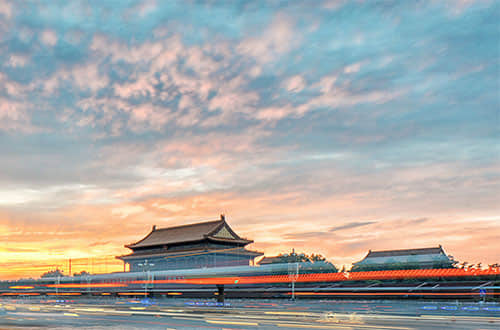 Although Beijing is the capital of China, it is not the largest city in the country. It connects the northeast and south of China. It is also close to Tianjin port, which is one of the top10 ports in the world. As the cultural, educational and administrative center of the country, we are not surprised that Beijing is one of the top-3 populated cities in China.
Beijing is a major industrial and commercial metropolis. It is also home to the top universities, research centers, and more than 60 institutions of higher learning. The history of Beijing can be traced back to over 3000 years ago. There are many well-known historical sites and world heritage sites in Beijing. So the tourist industry is a significant sector of the city's economy.
Major industries in Beijing include tourism, electronics, chemicals, automobiles, machinery, metallurgy, textiles, and garments.
Famous attractions in Beijing:
The Great Wall, the Forbidden City, Tiananmen Square, Temple of Heaven, and the Summer Palace.
4. Chengdu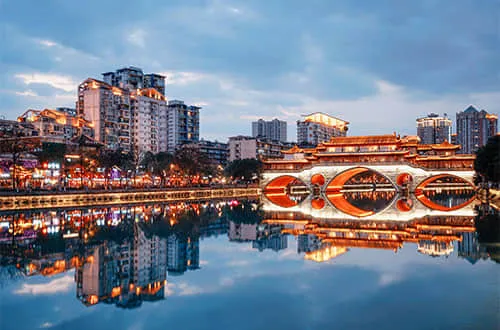 Chengdu is the provincial capital of Sichuan Province and a major city in western China. A thriving economic, transportation and communications center in southwestern China, Chengdu is also one of China's primary manufacturing, electronic, and agricultural bases. The city is part of the West Triangle Economic Zone along with Xi'an and Chongqing.
Tourism has become increasingly important for the city's economy due to the leisurely life and adorable pandas in Chengdu. The high-speed railway has connected Chengdu with other cities and the second international airport is expected to be completed in 2021. With the powerful support of China's central government, Chengdu has a huge development potential in the future.
Famous attractions in Chengdu:
Chengdu Research Base of Giant Panda Breeding, Kuanzhai Alley, Wuhou Memorial Temple, Chengdu Renmin Park, and Jinsha Site Museum.
5. Tianjin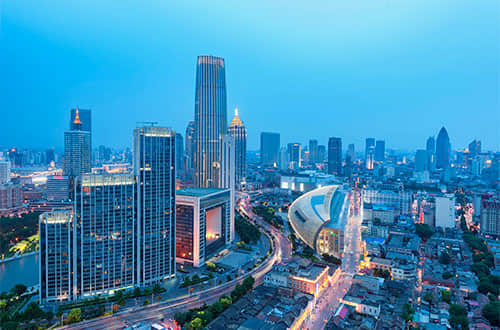 Tianjin is one of the four municipalities in China. It is also the largest port city in northern China and a hub for advanced industries and financial firms. It's only 30mins by bullet train or 2 hours' drive from Tianjin to Beijing. The Tianjin Pilot Free Trade Zone is home to around 18,100 businesses and over 160 investment projects.
The key industries are aviation, petrochemicals, metalworking, electronics, machinery, and vehicle manufacturing.
In addition, Tianjin International Cruise Terminal is the main stopover for many international cruise ships. It's the closest place for cruise passengers to visit Beijing and the surrounding areas.
Famous attractions in Tianjin:
Porcelain House, Ferris wheel(Eye of Tianjin),Great Wall at Huangya Pass, and Tianjin Museum.
6. Guangzhou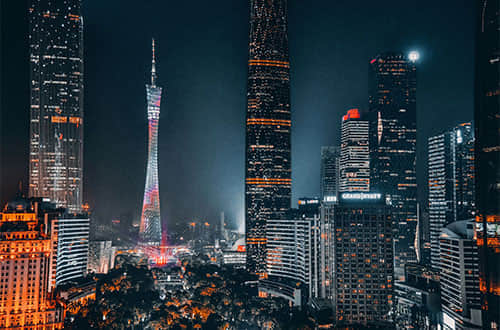 Guangzhou is the provincial capital of Guangdong and located in the Pearl River Delta. As the key port in southern China since 2000 years ago, it was one of the earliest port cities for international trade in China. This is why most oversea Chinese originated from Canton (Guangdong).
As the center of the Pearl River Delta Economic Zone and close to Hong Kong/ Macau, Guangzhou plays as important a role as Shanghai. They are the two economic development engines of China.
The major industries are automobiles, petrochemicals, retail and electronics.
Famous attractions in Guangzhou:
Baiyun Mountain, Chen Clan Ancestral Hall, Canton Tower, Shamian Island, and Pearl River Cruise.
7. Shenzhen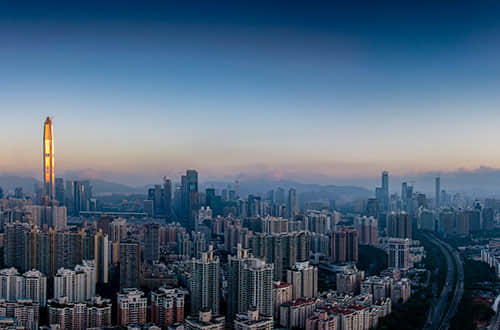 Neighboring with Hong Kong and Macau, Shenzhen is a major commercial and industrial center of the Pearl River Delta region. Until 1980, the city was a small fishing town, but was chosen as the site for China's first Special Economic Zone due to its proximity to Hong Kong.
Cultural and creative industry(CACI), high-tech industry, modern logistics, and financial services are the four major industries in Shenzhen. As a "Young" city, most of the people in Shenzhen are migrants from other parts of China. It was the first city in China to benefit from the "Reform and Opening-up Policy" initiated by Mr. Deng Xiaopingin 1979. Nowadays, Shenzhen is one of South China's most dynamic and developed economies.
Famous attractions in Shenzhen:
Shenzhen Window of the World, Happy Valley of Shenzhen, Dameisha Beach, and Huaqiang North Road Commercial District.
8. Baoding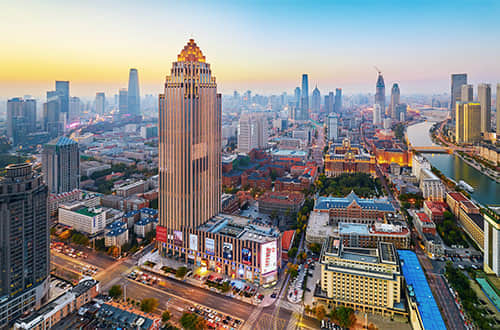 Located in Hebei province and about 160km(100 miles) southwest of Beijing, Baoding has a large population but it's not as well-known as the other cities in this top-10 list.
Baoding has a history of more than 3000 years and it was an important city for military, transportation and heavy industry. It was the provincial capital of Hebei province and was the political, economic, cultural and military center of Hebei until 1968, when Shijiazhuang took its place.
Baoding is a central hub for renewable energy production and deployment, and is home to over 200 producers of wind, photovoltaic and thermal mass solar, biomass and energy efficiency technologies. The other major industries are automobiles, transportation and textiles.
Nowadays, the central government has decided to develop Xiong'an New Area located in Baoding. As an important part of "China (Hebei) Pilot Free-Trade Zone", people expect that the GDP of Baoding will have a rapid growth in the future.
Famous attractions in Baoding:
Western Qing Tombs, Tunnel Warfare, Ancient Lotus Flower Pond Resort and Daci Temple.
9. Wuhan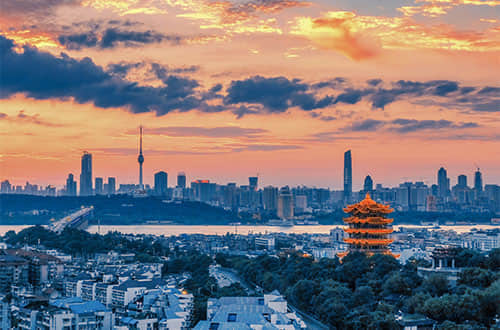 Located at the confluence of the Yangtze and Han rivers, Wuhan is renowned as the "River City". It is the capital of Hubei Province in central China.
Historically, Wuhan has been one of China's most important inland river harbors. Nowadays, it is a major national logistics hub in Central China. It has an established railway network, roads and expressways that connect the north-south and east-west traffic arteries (four trunk railway lines and six national expressways) and links the rivers with the sea. The city is now the economic, financial, trading, science, and information exchange hub of central China.
Pillar industries in Wuhan include automobile and auto parts, iron and steel, new pharmaceuticals, biology engineering, new materials industry, opto-electronics, environmental protection, renewable energy and microelectronics.
Famous attractions in Wuhan:
Hubei Museum, Yellow Crane Tower, Cherry Blossoms in Wuhan University, Hubu Alley, and Donghu Scenic Resort.
10. Shijiazhuang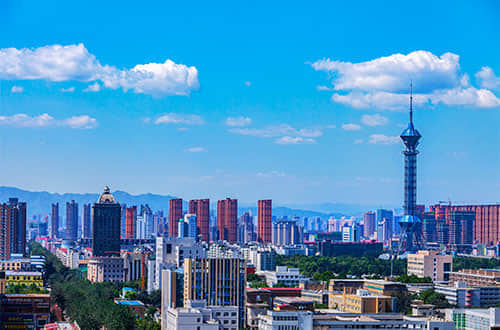 Since 1968, Shijiazhuang has been the provincial capital of Hebei Province instead of Baoding. Hebei was always a populated province in history. And it's the province bordering Beijing and Tianjin. Shijiazhuang is located about 291km(180 miles) southwest of Beijing in the North China Plain. It is one of the key railway transportation hubs in China. So we are not surprised that Shijiazhuang is one of the top-10 populated cities in China.
The pillar industries are medical technology, modern commercial logistics, and textiles.
Four major pharmaceutical companies in Shijiazhuang are the top medical firms in China. With the established high-speed railway network, Shijiazhuang is becoming a more important economic hub.
Famous attractions in Shijiazhuang:
Cangyan Park, Zhaozhou Bridge, Hebei Provincial Museum, and Zhengding Ancient Town.
---
The rapid population growth brings some social problems, such as pollution, high house prices, resources shortage, and bad traffic, etc.
Some cities have taken steps to deal with these problems, such as clean-energy development, vehicle and car plate control, basic construction building, and migration registration policies. With these policies and the quick development of other cities/villages, younger generations now prefer to look for jobs in the 2nd/3rd tier cities or contribute to their hometown in order to look after their parents in the future. The population growth rates of those metropolises have declined in the last 10 years.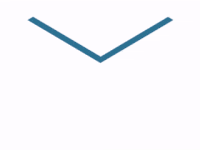 Have a question? Or can't wait to immerse yourself in the engaging journey of Chinese culture? Send us a message! Our top China specialist is ready to assist and connect with you without delay!