Chengdu Weather in August
It rains a lot in August, and this can bring the minimum temperature down to 20°C/68°F, but the maximum temperature stays at around 33°C/91.4°F.
| | | | | |
| --- | --- | --- | --- | --- |
| | Average Maximum | Average Minimum | Highest Maximum | Lowest Minimum |
| ℃ | 30 | 22 | 35 | 20 |
| ℉ | 86 | 71.6 | 95 | 68 |
Sunny Days: about 2 days
Cloudy Days: about 4 days
Rainy Days: about 18 days
Overcast Days: about 7 days
What to wear and bring?
Early August
The maximum temperature early in the month stays at around 33°C/91.4°F, except for the couple of days which have moderate rain. You need to avoid falling by wearing suitable shoes because the ground is often wet and slippery. It is recommended that you wear cool clothes and carry an umbrella during this time.
Mid-August
Compared to early August, the temperatures of this period are even lower. The minimum temperature can reach 21°C/69.8°F. And there are also a lot of rainy days. Wearing cool clothes and light coats are necessary. Do not forget to bring rain gear.
Late August
The weather is similar to the middle of August, and the heaviest rainy days are in this period. You should be careful when you go out. Wearing cool clothes and staying indoors out of the rain is recommended.
Historical Chengdu Weather in August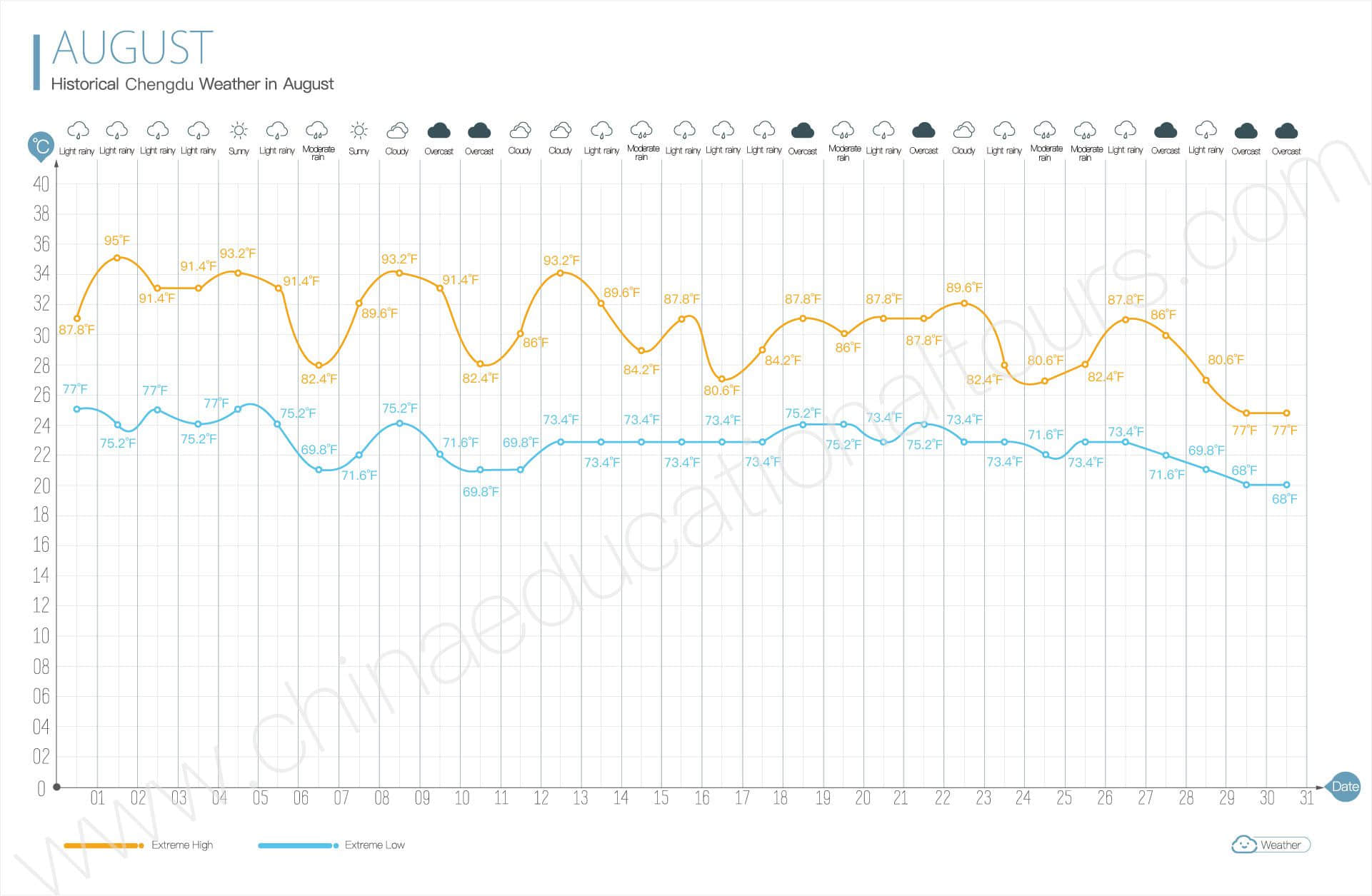 click here to enlarge
Have a question?
OR
Are you eager to begin your Chinese cultural journey?
Drop us a line and we will promptly connect you with our leading China expert!