The temperatures in October are a little lower than September. The average maximum temperature is 21℃/69.8℉, while the lowest minimum is about 0℃/32.0℉. At the end of the month, the temperature gap between day and night is getting larger, so you may want have layers of clothing to add and take off.
| | | | | |
| --- | --- | --- | --- | --- |
| | Average Maximum | Average Minimum | Highest Maximum | Lowest Minimum |
| ℃ | 21 | 12 | 26 | 0 |
| ℉ | 69.8 | 53.6 | 78.8 | 32.0 |
Sunny Days: 3 days
Cloudy Days: 6 days
Rainy Days: 22 days
What to wear and bring
Early October
In early October, the temperature is between 15℃/59℉ and 26℃/78.8℉. There are likely to be six showery days and about four cloudy days. It is recommended to wear shirts, thin sweaters, jackets or other casual clothing.
Tips:
Weather on the Chinese National Day
On National Day, the maximum temperature remains around 25℃/77℉ and the minimum temperature stays around 15℃/59℉. On this usually cloudy day, casual clothing is adequate, and you could bring a thin coat because of the likely temperature difference between day and night.
Mid-October
In mid-October, the temperature begins to drop two or three degrees, with the minimum temperature staying generally around 12℃/53.6℉. The weather has been showery with light rain continuously for more than a week, so you should bring rain gear to go out. Long sleeves, trousers and a wind proof coat are adequate clothing.
Late October
In late October, the weather in Dali gradually cools down, and the temperature is from 0℃/32℉ to 23℃/73.4℉. There are a couple of sunny days, but a larger temperature difference between day and night. In this cold weather, you will need to wear warm clothes, such as a padded coat, and winter clothes.
Historical Dali Weather in October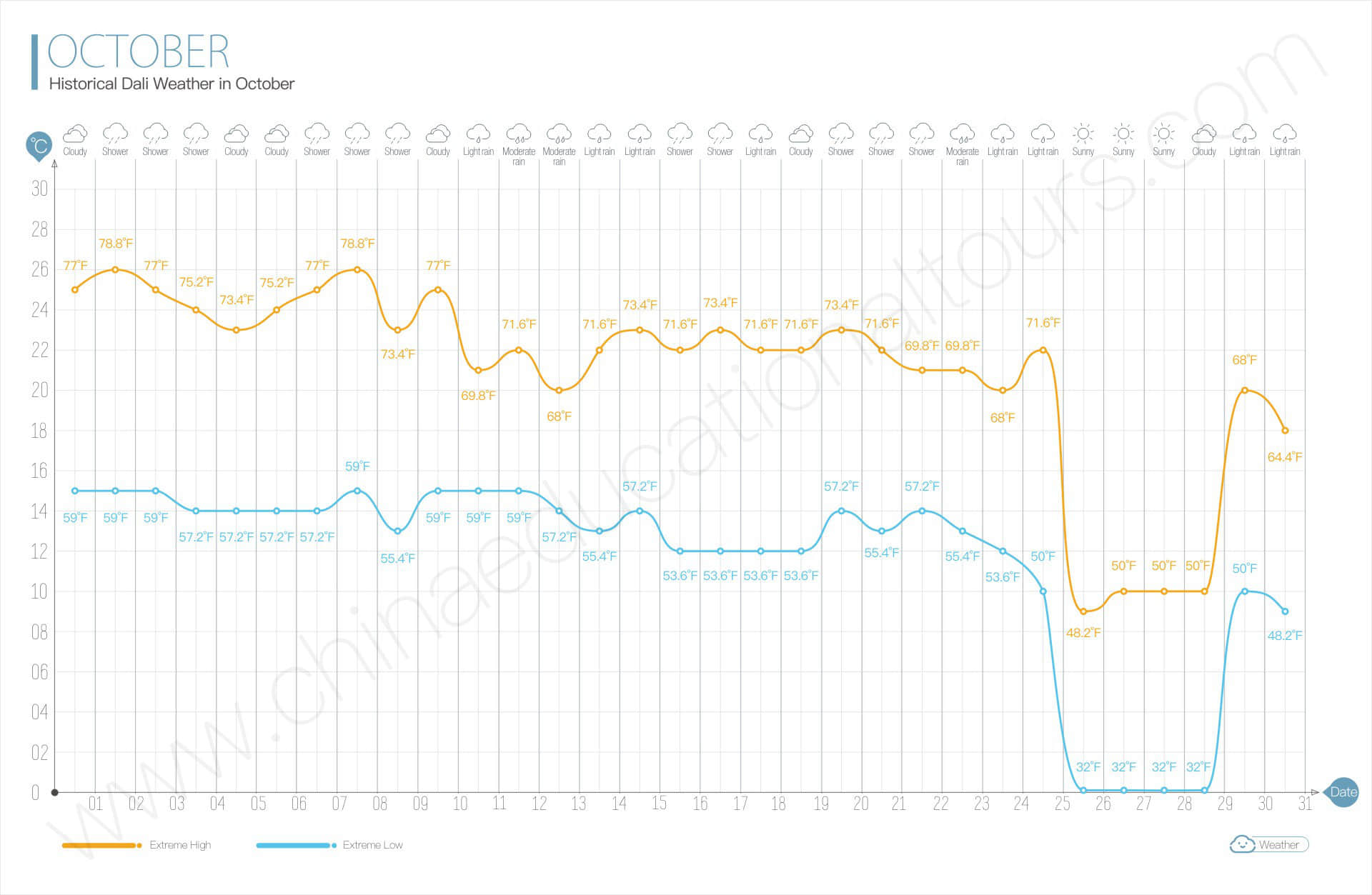 click here to enlarge