Zhangjiajie Weather in July
July is the hottest month in Zhangjiajie. The average temperature is between 36°C/96.8°F and 25°C/77°F, and the highest maximum temperature can reach 41°C/105.8°F. Just about all of the days are sunny or cloudy.
| | | | | |
| --- | --- | --- | --- | --- |
| | Average Maximum | Average Minimum | Highest Maximum | Lowest Minimum |
| ℃ | 36 | 25 | 41 | 23 |
| ℉ | 96.8 | 77.0 | 105.8 | 73.4 |
Sunny Days: about 16 days
Cloudy Days: about 9 days
Rainy Days: about 5 days
Overcast Days: about 1 day
What to wear and bring?
In early July
The maximum temperature is around 33°C/91.4°F in early July. You need to take care to prevent heatstroke. Wear light, comfortable clothing such as shorts.
In mid-July
The weather in mid-July is similar to early July, and it will not rain during this period. It is recommended to wear the coolest clothing, such as shorts and dresses.
In late July
Late July is the hottest time in the whole year in Zhangjiajie. The highest temperature rises to 41°C/105.8°F, and even the lowest temperature can go up to 28°C/82.4°F. Do not stay outdoors in the sunshine for any length of time. Wear short sleeves, shorts or a short dress. You could wear cool footwear such as sandals or cloth shoes.
Historical Weather in July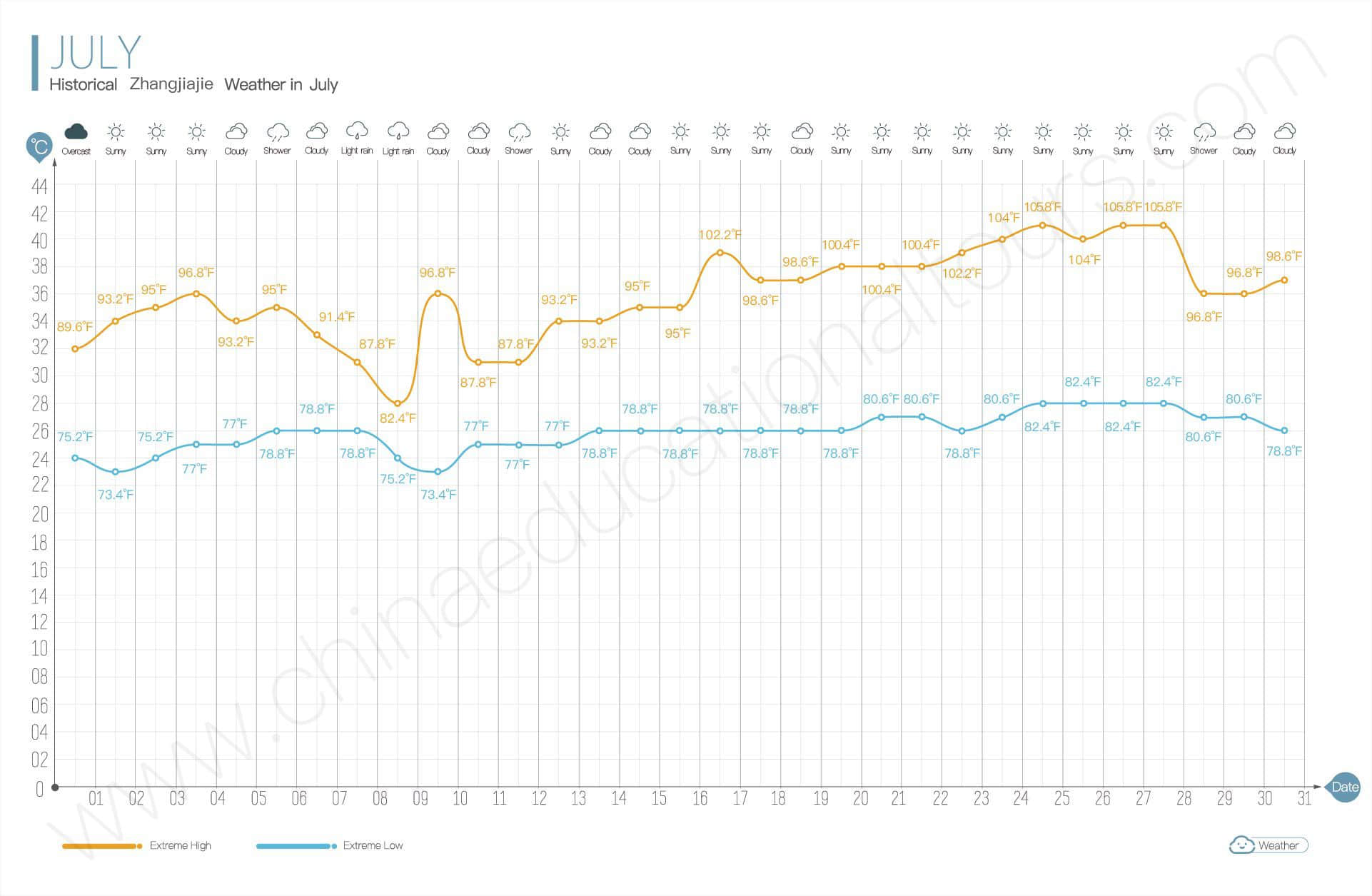 click here to enlarge
Have a question?
OR
Are you eager to begin your Chinese cultural journey?
Drop us a line and we will promptly connect you with our leading China expert!