How to get there from downtown Beijing
Join our small group tour. It is convenient, worry free, and affordable for everyone. However, the itinerary is fixed and cannot be changed.
Book our private one-day tour with your personal car and bilingual tour guide. You will enjoy flexible and customized services, and have a great value experience.
How to get there on your own
By bus from Beijing Dongzhimen Bus Station to the ticketing office
08:00 depart from Beijing Dongzhimen bus station
15:00 return from Jinshanling Great Wall
Operates only on weekends and public holidays from April to November and a single trip is about 2 hours.
Ticket fare is CNY120 per person, including round bus fee, entrance fee, and a single ticket for the cable car)
Take a shuttle bus from downtown to Miyun county, transfer to bus line No. 51 to Simatai village (also named Gubei Town), it costs about CNY 12. Taking a taxi will cost about CNY 50.
Take a long-distance bus from Sihui Bus Station to Miyun County, and then transfer to bus line No. 51 from Miyun Bus Station to Simatai village (also named Gubei Water Town) which costs CNY 12. Then take a taxi from there to Jinshanling Great Wall, which will cost about CNY 50.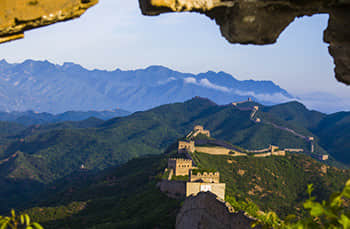 The Best Time to Visit the Jinshanling Great Wall
April, to appreciate Apricot blossoms, white, pink, and red, swaying in the wind.
October is a suitable time to admire golden leaves; you will have a grand view of a sea of clouds after a thundershower.
The best time to see snow scenes and sunrise falls in December.
What to do on the Jinshanling Great Wall
1. Take photos
Jinshanling Great Wall is the most popular section for photographers for its zigzag and steep steps, and broad horizon on both sides. Vigorous plant growth in spring and snow-capped mountains in winter are a splendid view in Jinshanling. Sunrise and sunset on the Wall are breathtaking. We recommend amateur photographers staying overnight here. There are several hostels near the entrance, which cost about CNY 100 per standard room per night. Better facilitated hotels are available 4-5km to the south of Simatai Village, which cost about CNY 200 per standard room per night.
2. Appreciate Bricks with Characters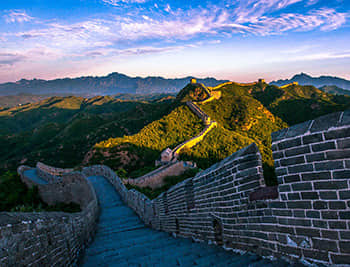 There are lots of bricks carved with Chinese characters. At the very eastern part of the Wall is 'Brick with Chinese Characters' on the Great Wall. It recorded the time when they were made and the troops who made them. This section is unique and very precious without too much reconstruction and has kept its quaint and original appearance.
3. Admire Kylin Screen Wall
A Kylin is an auspicious animal in Chinese traditional cultural myths, with a gentle nature. Its appearance combines the head of lion, antlers, tiger's eyes, moose's body, dragon scales, and oxtail. It is said that the Kylin has two thousand years' longevity. In ancient times, people thought that where there was Kylin, there was luck. Kylin also represents people who are elite.
Kylin Screen Wall is located on top of the Small Fox Tower (Xiaohu Tower) which is 18-meters high and made of blue bricks. On the Screen Wall, 15 square bricks compose a vivid kylin relief. This spot will be easily recognized as many photographers gather around here to take pictures.
Tips
Please prepare some water and food in advance. Local farmers sell water, soft drinks and snacks on the Wall with a higher price as it is difficult to carry them up there. It is however a good gesture to help them with buying their goods.
Paying CNY150, you can hire local people at the entrance to guide you and share more knowledge about the Wall.
Unlike other sections, you don't have to walk back the same way.