It is cold and dry at this time of the year. The average maximum temperature is 8℃/46.4℉, and the lowest minimum temperature is -7℃/19.4℉. It is always sunny or cloudy this month, with no rain, and the air is very dry.
| | | | | |
| --- | --- | --- | --- | --- |
| | Average Maximum | Average Minimum | Highest Maximum | Lowest Minimum |
| ℃ | 8 | -3 | 13 | -7 |
| ℉ | 46.4 | 26.6 | 55.4 | 19.4 |
Sunny Days: 14 days
Cloudy Days: 14 days
Rainy Days: 0 days
Overcast Days: 3 days
What to wear and bring
Early December
The lowest temperature in early December is 0℃/32℉, and the highest is 5℃/41℉. It is recommended that you wear large-padded jackets, military coats and other wind-proof clothes. Scarves and gloves are also good to keep you warm. In addition, to avoid getting a cold, you need to pay attention to the dry air too, it's a good some carry replenishing aquatic products.
Mid-December
Mid-December is the coldest period of the month, with the extreme low temperature of -7℃/19.4℉. Hence, keeping yourself warm is particularly important. Wear large cotton-padded clothes, down jackets and warm clothes, and thick shoes. In order to prevent wind damage, it is best to wear a knitted cap, scarf and gloves. At the same time, replenishing water is also very important.
Late December
The weather in this period is similar to mid-December. The temperature is still very low. Keep wearing heavy down jackets and avoid staying outdoors for long periods of time.
Historical Xi'an Weather in December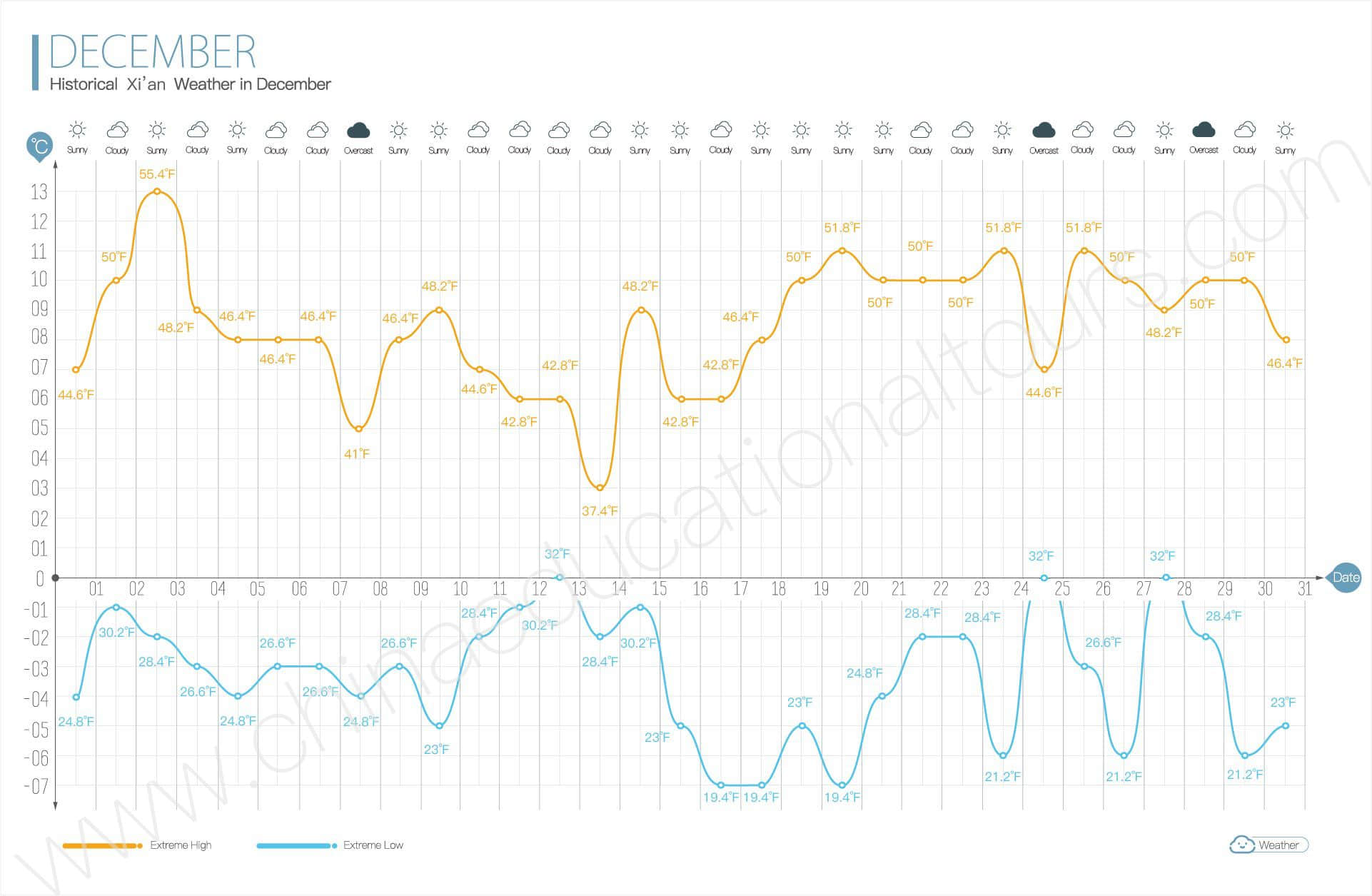 click here to enlarge