The temperature rises gradually in February, and the maximum temperature remains basically above 2℃/35.6℉. There are more sunny days and less cloudy days during this month. It rains rarely and you may see a couple of rainy days in the whole month.
| | | | | |
| --- | --- | --- | --- | --- |
| | Average Maximum | Average Minimum | Highest Maximum | Lowest Minimum |
| ℃ | 9 | -2 | 20 | -7 |
| ℉ | 48.2 | 28.4 | 68 | 19.4 |
Sunny Days: 11 days <> Cloudy Days: 9 days Overcast Days: 6 days Rainy Days: 2 days
What to wear and bring
Early February
The weather in early February is fine, full of sunny days without rain or snow. However, the minimum temperatures are still low, between -3℃/26.6℉ and -7℃/19.4℉. You will need to wear a heavy sweater or a down jacket if you go out. Ladies who wear dresses or skirts are advised to wear thick leggings or pants underneath, to avoid catching a chill. You will need to wear a heavy coat.
Mid-February
Compared to early February, it is warmer in mid-February. The average maximum temperature is about 9℃/48.2℉, and the minimum temperature is 0℃/32℉ and often below. Warm sweaters and heavy coats can be worn to keep warm. The air is dry, so it's a good idea to moisturize your skin.
The temperatures remain between 11℃/51.8℉ and 1℃/33.8℉ on the whole during this period, although the temperatures vary widely from day to night. The sun shines brightly during the day, and it's a nice time to go shopping and play. Even so, there might be one or two rainy days, and you should take an umbrella when you go out. You should wear warm underwear, and put on a coat, or at least a small down jacket.
Late February
It is fine in late February, and the average maximum temperature can reach 16℃/60.8℉. You will need to wear mild warm clothes such as sweater, coat, jacket or windbreaker.
Historical Xi'an Weather in February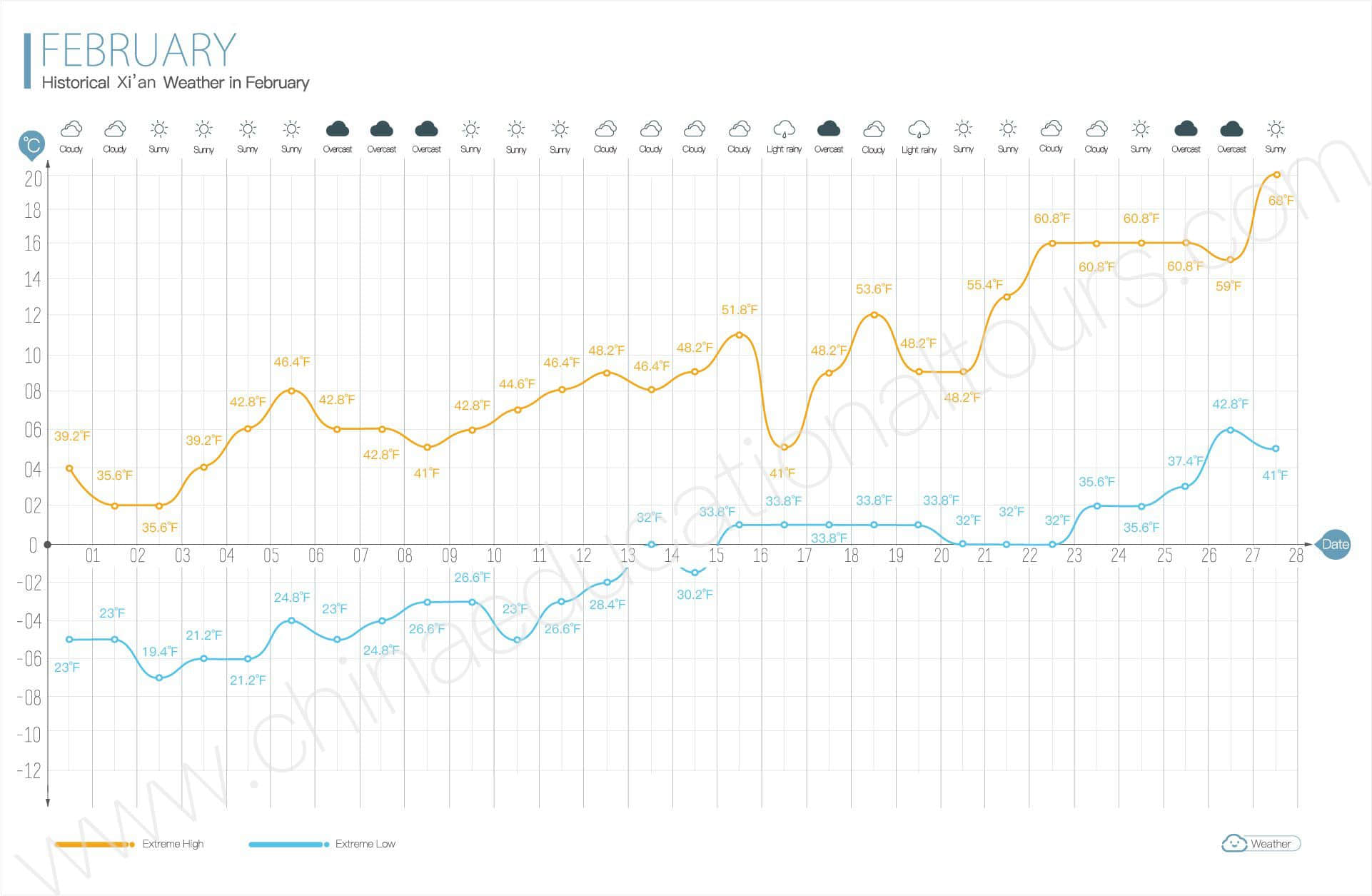 click here to enlarge